DR. YAW PERBI
2022
Register
3RD EDITION
Growth
Mastermind
Join us for 8 weekly online sessions to pause, take stock, learn new strategies and go farther!
WITH
"Thank you, Yaw, for being the
authentic leader you are."
Bill George, author of True North
LEADERSHIP
INTEGRITY
FAMILY
ENTREPRENEURSHIP
Thinking Outside The Window
Part Memoir, Part Manifesto
This masterpiece, which is mysteriously a memoir and a manifesto, reveals not only how the mission of changing the world has changed…a lot, but also how to respond appropriately. In three scintillating parts Dr. Yaw Perbi shares yesterday's story of global mission and his personal call from medicine to mission and from Ghana to the global stage; today's realities of a changed world and how to face a future that starts with you, here and now.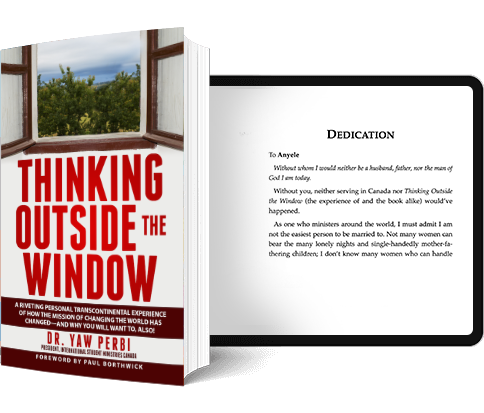 Leadership | Leadership | Leadership
Integrity | Inspiration | Investments
Entrepreneurship | Ethics | Existentialism
"We needed a head-start with clearly defining our vision, mission and core values as an organization and had the privilege of engaging the professional services of Dr. Yaw Perbi.
Through our interactive sessions, my team and I unearthed the "DNA" of our organization. Dr. Perbi's style of presentation is unique and transformational. The sessions included training and coaching in the areas of strategy, management, leadership, value delivery, amongst others.
Thanks to Dr. Yaw Perbi, we now have our compelling vision and mission statements as well as relatable core values to enable us deliver the best customer experience. As an excited and vibrant team, we have scheduled further executive leadership training and one-on-one coaching with Dr. Yaw Perbi."
Mawuse Nyavor-Dusi
Operations, Admin & HR, Perbi Cubs Library Services
Follow the cloud; not the crowd. (Photo credit: Pixabay) Do you know the story about the wealthy arts collector and...