Everyone knows this is a hard time to live and even more so a jolly harder time to lead. A couple of thoughts and tools have been most helpful in my own leadership struggle to survive the pandemic and tussle to thrive beyond it.
This is worth repeating although people in my circles might be tired of hearing me sound like a broken record: a pandemic is a terrible thing to waste. It tends to be once-in-a-lifetime, nay, once every 100 or so years, for crying out loud! That notion of not squandering the opportunity in crises was most eloquently quipped in recent years by Stanford economist Paul Romer at a venture-capitalist meeting in November 2004 in California when he said, "A crisis is a terrible thing to waste." According to the The New York Times Magazine, "he was referring to the increasing competition that America faces from rapidly rising education levels in other countries." How much more COVID-19!
As a leadership practitioner in the global sphere, I've found myself in various groups discussing both gut reactions and measured responses to the pandemic. I have been particularly intrigued by the notion that COVID-19 is not just a passing blizzard but a long winter, even possibly a mini ice-age. I first heard it from my mentor of nearly 20 years who is currently the Finance Minister of the Republic of Ghana, Ken Ofori-Atta. In his Financial Times article that prayerfully ponders a restoration of GDPs to structural changes that need to happen from digitalization to debt issues, he prophesies: "This is not a passing blizzard, as a friend said; more like a long winter, even a mini ice age."
Similar words were used by Andy Crouch et al. In summarizing their Leading Beyond the Blizzard: Why Every Organization is Now a Startup article, the above words from Ofori-Atta were echoed: "The novel coronavirus is not just something for leaders to "get through" for a few days or weeks. Instead, we need to treat COVID-19 as an economic and cultural blizzard, winter, and beginning of a "little ice age" — a once-in-a-lifetime change that is likely to affect our lives and organizations for years."
So how do we live and lead (tactics) in the immediate to survive the vagaries of the current season yet be and do in a way that enables us to thrive beyond the pandemic (strategy). I've found the following thoughts and tools most helpful.
1. TRIAGE TO LIVE THROUGH THE PANDEMIC
As a Ghanaian, the month of May holds both the joys of May Day (workers' holiday; equivalent of Lab(o)ur Day) and the pains of the May 9 stadium disaster that took the lives of 126 people in 2001. As all hands were called on deck that fateful day, ordinary folks drove to my medical school to implore medical students to come over and do whatever we could to help salvage endangered lives from the stampede that had ensued at the capital's stadium. One of the necessary evils of medical practice is triaging in disaster. This is "the assignment of degrees of urgency to wounds or illnesses to decide the order of treatment of a large number of patients or casualties." The word "triage" for grouping patients based on the severity of their injuries and the likelihood of their survival comes from the French word "trier" which means "to sort." As a doctor I can tell you that usually it's not the ones shouting the loudest that need the most urgent care but often the ones dying slowly in silence, perhaps haemorrhaging away.
What has this got to do with leading well in this COVID-19 pandemic? Well, while the mission of your organization wouldn't change; your methods not only can, they should. The pandemic offers the kairos moment and clarity to triage, to sort through what must be given urgent care or otherwise. There are things that should become even more of a priority now in this pandemic; some that have emerged out of the blue and others that should be honoured as having served their purpose and honourably let go.
I have personally found the following 'Strategy Triage Tool' introduced in an April 30 Vision Synergy online workshop I was in most helpful. Hope you do too.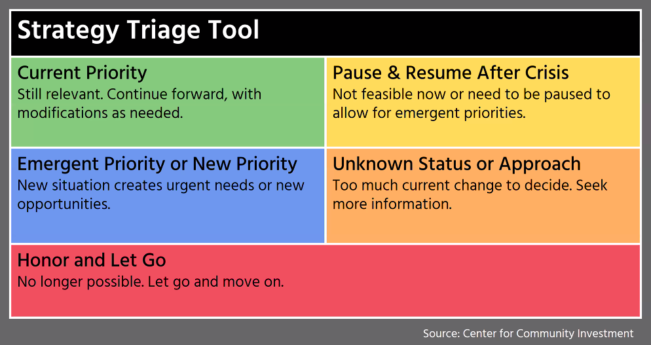 2. INNOVATE TO OUTLIVE THE PANDEMIC
"Necessity is the mother of invention," so the old adage goes. And indeed, when the need for something becomes imperative, human beings are forced to find ways to get things done in a manner they wouldn't have otherwise without this compelling force. I have witnessed more appropriate technological innovations on the African continent since the COVID-19 pandemic than I have my whole life!, everything from solar-powered soap-dispensing hand washing sinks through contact tracing mobile apps to pool testing of lab samples for coronaviruses. In the various organizations I'm a part of, I've seen many innovations things from cooking together in real time on Zoom to collaborative music videos of people continents apart.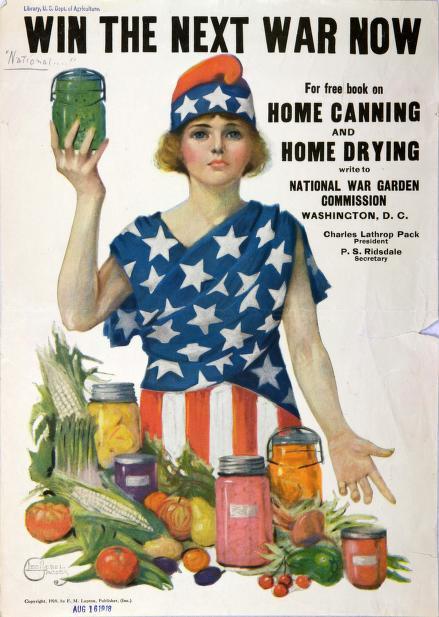 My excitement about crisis-birthed innovations was tampered though by wise words from my super smart fellow Fellow of the Africa Leadership Initiative (ALI), Bright Simons. Hear him: "Survival instincts do spur innovation during crises. But some crisis-spun innovations fail to position organisations well for the eventual recovery. For example, improved food canning and other preservation techniques became a mainstream strategy during World War II, but not the distributed "home canning" opportunities some, such as the Bernadin Bottle Cap Company, bet their fortunes on. The strong surge simply fizzled out in the post-war years. If an emergency forces new thinking that leads to new product and service lines, it may be worth your while to contemplate how you can "stretch out" the adaptive investments to sustain your edge into the recovery phase, with your primary focus on scaling when the constraints are less likely to lead to burnout."
In demonstrating how we can "stretch out" the adaptive investments of COVID-19 so that our innovations can outlive the pandemic, Simons offers the illustration below.
The excellent COVID-19 analysis in this scenario planning PowerPoint by UC Berkeley professor Steven Weber and Arik Ben-Zvi (CEO of Breakwater Strategy) has also been a cherished gift. It is helpful that the duo have put a lot of thinking into various possible scenarios from total triumph to downright disaster, enabling leaders to conserve our energies to take care of the resulting so whats and then what's for our own contexts and constituencies. Cross out America and the tool is pretty good for anywhere in the world that has been hit by COVID-19, which is everywhere.
FINALLY
So yes, any crisis is a terrible thing to waste, especially a pandemic of current proportions. In our bid to live and lead, may we do so well in order not only to merely survive the moment but to even outlast it. May posterity arise and salute the Covid-containing and Covid-conquering champions that we are, in the making.