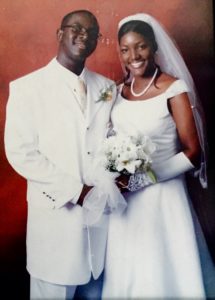 In the excitement of 'falling in love forever' and prospects of 'making love all night long' we forget (or simply don't realize) the reality that nothing works until we work it; especially the hard work on our own character in marriage all life long.
SPEAK NO EVIL
When you are a gifted speaker one of your greatest temptations is accepting invitations to address things you have no expertise or experience in or have no particular passion for, just because you've got the gift of the gab. For integrity sake, I've always strived to not fall prey to that trap just because "I can talk." Early in my career as a communicator one of the things I promised myself was to not preach or bring the exhortation at a wedding ceremony for a long time until I had walked long enough in those matrimonial shoes. For me that was a minimum of three years; now it's been 10.
Since I married my friend of 15 years on August 12, 2006 I've had the privilege of conducting and speaking at a few weddings of various kinds: African, North American, Chinese, Messianic Jew… you name it. And I always tend to speak on what others would rather not.
WHAT'S ALL THE FUSS ABOUT?
"Already?!" I exclaim again and again. "But (s)he was many years my junior!" "Did they not just get married?" The rate of divorce in society today worries me to no end; but especially among those who call themselves Christians. One of the factors that pushed me out of not speaking or writing much about marriage was heart-wrenching conversation after conversation about several younger medical colleagues of mine whose marriages had come apart. And it's not just the Christian doctors; it's a myriad others.
So why do people still want to get married? Why do some societies actually even pressure people into marriage as if it's the best thing in the world if we very well know that half of these will be dissolved before the first anniversary? On some social media platforms I know of, divorce is not only normal, it is actively encouraged. What's all the fuss about weddings then?
The following BIG four 'features and benefits' may be why the majority want to marry, what excites all of us who attend weddings and what most counsellors and preachers will talk about:
Companionship—"It is not good for man to be alone."
Cause—a suitable help to accomplish your life's mission/purpose together.
Coitus—OK, that's doctor language; what 'mere mortals' call "sex." Trust me, that alone is worth getting married for! [But then again for the heathen, what's sex got to do with marriage, right?!]
Children—both child-bearing and child-rearing in a loving, safe and stable socio-economic and spiritual context.
I may expand on these 'big four' in my future writing. My emphasis today is the fifth 'C' which nobody talks about much.
THE MISSING 'C'
Yes, all these four Cs are worth making a fuss about and jubilating at weddings over but one of the most important reasons why God 
made marriage yet which I hardly hear anybody talking about is this fifth 'C' which I want to spend the rest of this blog on: Character.
This, for me, has been my #1 lesson in the mere 10 years I've been married (my parents are about hitting forty and both maternal and paternal grandparents made it over half a century in marriage before both grandmas passed away). A key 'feature and benefit' of marriage is character construction.
CRUCIBLE & COLLEGE
If you ever did Chemistry experiments in school you most likely used a crucible. It is a container in the lab in which substances are mixed at very high temperatures. Yeah, that's what marriage is. It is a crucible. Nothing in the world produces as much heat to bring out impurities and form character like marriage! Nothing!
Yes, medical school was tough and moulded the character of my mates and I. Yet if I told you the number of smart, young doctors who finished medical school with excellence and yet are checking out from the 'heat in the kitchen' of marriage you will be shell-shocked! It's not about smartness (the head), it's not even about skillfulness (the hands), it's about character (the heart!).
Nothing shapes us like marriage and that is why people can successfully run Fortune 500 companies, like the chap who run a multinational with over 300,000 employees worldwide but could not keep a single marriage! How many world record-setting athletes and multiple-award winning artistes don't we know who dazzle us with their giftedness but the least said about the marriages the better? O, and archbishops who supervise hundreds of churches and tens of thousands of congregants around the world and cast out big big demons but cannot keep one marriage!
One of God's highest purposes for making man is so that we look like him—God has always wanted us to look like him—"let us make man in our image and likeness." Marriage is God's best laboratory and school for that process of spiritual transformation; some call it "discipleship." Character formation, the spiritual transformation of one another to become more and more like Christ, is one of the highest 'features and benefits' of Christian marriage and yet nobody wants to 'dampen' the excitement to talk about that.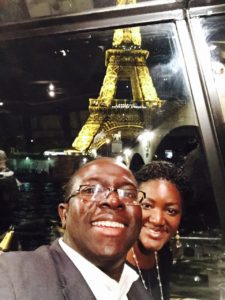 I thought I was patient until I got married. I always knew I was prideful but not this much until I started this journey with the most wonderful woman in the world. Trust me, I look much more like Christ today than I did ten years ago, thanks to this thing called marriage. And I'm not even 'there' yet (you can ask Anyele my wife!) You and I may decide to 'check out' of our marriages for a myriad reasons, chief of them in my generation being "irreconcilable differences.' Perhaps the secular and godless can say that, but for a Christ follower, is there anything more irreconcilable than sinful us and a perfect God? Yet He came to us and sought us out to reconcile us to Himself as His forever bride "while we were still sinners."
If we don't give up but keep up the hard work of "submit[ing[ to one another out of reverence for Christ;" if wives would submit to their husbands in everything as the Church (bride) submits to Christ (bridegroom); if we husbands would love our wives just as Christ loved the Church to the point of sacrificial death we all will be daily transformed more and more into the image of Christ and the longevity of our marriages will actually seem rather like a byproduct.
Your true measure 
of spirituality is not who you are in church but who you are at home! 
No better discipleship school in the world than marriage! 
I did medical school for eight years (and another 2 years of 
housemanship) before getting my full certificate to practice but marriage is a 'strange' college where, as they say, you get your certificate even before you start the course!!
As Ephesians 5 portrays, marriage is this beautiful picture of Christ and His Church, and God wants you and I to mirror this HIGH standard! Don't try to lower the standard to what you can do; get on your knees and plead for GRACE to reach those heights only God can empower us to! If you've decided to or are contemplating this thing called marriage, welcome to the college of discipleship; welcome to the crucible of character formation! 
If you will both submit to Christ, His Word and His Ways, you will both look like Him more and more!
This is not just the hard work of will power or self-help I speak of but a work of grace; if we will allow it. There is grace enough for the marriage journey. "11For the grace of God has appeared that offers salvation to all people. 12It teaches us to say "No" to ungodliness and worldly passions, and to live self-controlled, upright and godly lives in this present age, 13while we wait for the blessed hope—the appearing of the glory of our great God and Savior, Jesus Christ, 14who gave himself for us to redeem us from all wickedness and to purify for himself a people that are his very own, eager to do what is good." (Titus 2:11-12)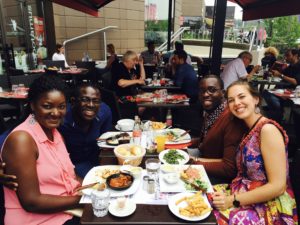 MARRIAGE IS AWESOME!
Marriage is not just society's idea; although today's Supreme Courts and local governments think this is their invention and can tweak it however they want. Marriage is God's idea and it is awesome when done God's way! God made it and said it was good.
Marriage is awesome! The companionship is great!, helping each other in accomplishing our purpose is wonderful!, the sex is literally breathtaking!, the children a blessing!… and the character formation, phenomenal! Don't just endure, enjoy! None of us is qualified to say "marriage doesn't work" until we've worked it the way the Designer planned it.