Have you ever come across a 'WANTED' notice?  Have you ever been on one? People can be wanted for good and bad reasons. Today, I'm here to share a WANTED notice with you on behalf of several business owners I get to coach and on my own behalf as a serial entrepreneur, WANTED: INTRAPRENEURS!
This was my passionate call during the final day of a whole week's orientation and training of two dozen staff of Perbi Cubs Library Services, an evidence-based, cost-effective, literacy-promoting endeavour co-founded by my wife Anyele Perbi and I. This social enterprise has grown to serve 2,000 children in 200 schools and is set to scale some 10 times in the coming new school season (Deo volente) as a result of an innovative digital online library solution we're partnering with various leading schools to roll out. The 'problem' of Covid-19 presented this entrepreneurial opportunity. I challenged our employees to become intrepreneurs. Here's why.
WHAT'S IN A NAME?
First of all who is an entrepreneur?  An entrepreneur is simply a person who sets up a business or businesses, taking on financial risks in the hope of profit.  Investopedia offers an expanded definition of this as follows: "An entrepreneur is an individual who creates a new business, bearing most of the risks and enjoying most of the rewards. The process of setting up a business is known as entrepreneurship. The entrepreneur is commonly seen as an innovator, a source of new ideas, goods, services, and business/or procedures." My definition is as simple as this: an entrepreneur is a problem-solver for profit.
Entrepreneurship is certainly not a job, it's not even a profession or career; it's a mindset and lifestyle. It is a mindset and lifestyle of taking ownership and risk to innovatively solve problems for profit. Hence employees who think and act like entrepreneurs are called intrapreneurs.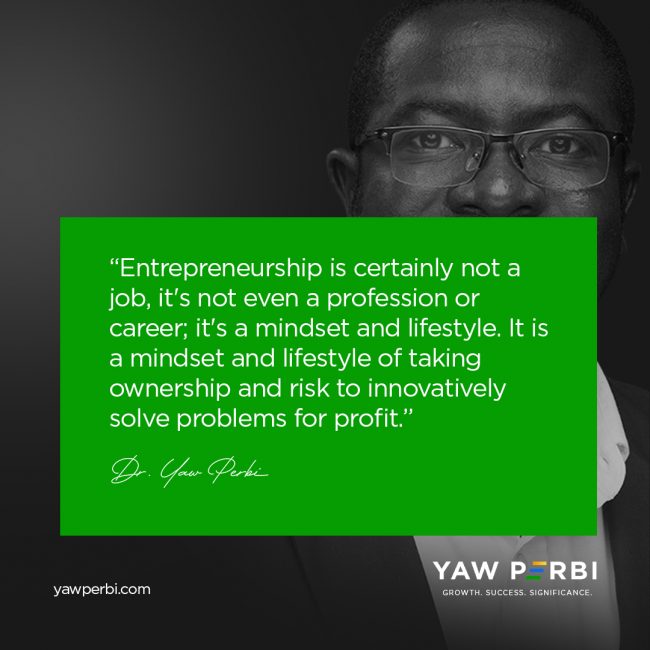 Intrapreneurs are employees who behave like Entrepreneurs. They have a work attitude and style that integrates response-ability, risk-taking, ownership, innovation (ROI). I like the acronym ROI because intrapreneurs really provide the best Return on Investment for their employers, business owners and indeed all stakeholders.  The first written use of the term 'intrapreneur' appeared in a 1978 paper by Gifford and Elizabeth Pinchot entitled Intra-Corporate Entrepreneurship but prior to that the poster child for intrapreneurship had been Art Fry of the 3M company, four years before (I shall summarize his story shortly). The Pinchots' first book, Intrapreneuring: Why You Don't Have to Leave the Corporation to Become an Entrepreneur (1985), presented an expansion of the intrapreneurship concept where they defined intrapreneurs as "dreamers who do. Those who take responsibility for creating an innovation of any kind within an organization."
Here's a more elaborate definition of Intrapreneurs by Jordan Daykin in Forbes magazine: "A team of competitive, confident individuals who are committed to innovation, passionate about work and producing higher value for their employer [indeed, all stakeholders]. They will need to have an entrepreneurial spirit, be activators of ideas and have a willingness to take calculated risks. In return for their desire to help the growth of the company over financial reward, they will receive support and resources to help make their ideas a reality."
ART FRY THE INTRAPRENEURSHIP POSTER CHILD
Today, it's hard to avoid 3M products, especially those sticky notes of theirs. The company is worth $5 billion with a recurring spot on the enviable Fortune 500 list but what most people don't know is that its success is largely one of the power of intrapreneurship. In 1968, a 3M engineering employee called Art Fry attended a seminar given by another 3M scientist, Spencer Silver, on a unique adhesive the latter had developed. This innovation had an unusual molecular structure that gave it the unique characteristic of being strong enough to cling to objects but weak enough to allow for only a temporary, non-damaging bond.  It is reported that the scientific community didn't take Silver seriously and he himself was still searching for a marketable use of his invention.
As the legend goes, Fry sang in his church choir on nights, and he used slips of paper to mark the pages of his workbook. When the book was opened, however, the makeshift bookmarks often moved around or fell out altogether defeating the whole point. On a Sunday in 1973, it occurred to him that Dr. Silver's adhesive could be put to use in creating a better bookmark. If it could be coated on paper, Silver's adhesive would hold a bookmark in place without damaging the page on which it was placed. Being the intrapreneur that he was, the next day, Fry requested a sample of the adhesive and began experimenting with it, coating only one edge of the paper so that the portion extending from a book would not be sticky. Fry experimented with writing notes to his boss, which broadened his original concept into the innovative Post-it Note product. 
In 1978, 3M marketed the sticky notes under the name "Press 'n Peel." Two years later, after sampling in 11 states across the country, 3M officially released the first Post-it Notes. They were a massive success right away, resulting in over $2 million in sales after only a year on the marketplace.
IF YOU DO GOOD…
The company 3M isn't the sole beneficiary of Fry's intrapreneurship. Time and space wouldn't allow me to list all the accolades and achievements of Art Fry as a result of his intrapreneurship. As the saying goes, "If you do good, you do it for yourself, really." Things have a way of coming back to us, don't they? What we sow, we reap. In return for their desire to help the growth of the company over financial reward, not only do entrepreneurs "receive support and resources to help make their ideas a reality" (as Daykin says above and the Fry-3M story shows), they also obtain skills for their own concurrent or future enterprises, they can expect that others would treat them and their businesses the way they treated another's. Intrapreneurs are singled out for extraordinary opportunities (I've done that for several people) and can always come back for referrals and recommendations from their managers/leaders/business owners. Above all, if you do good, you do it not only for yourself but also for your God. Then His kingdom will come more fully on earth as it is in Heaven.
"THIS IS MY FATHER'S WORLD"
The Good Book exhorts all and sundry, "Whatever you do, work at it with all your heart, as working for the Lord, not for human masters."  That is more than stewardship, I think. That is ownership right there. Taking ownership of the work one does not because they are owner per se, but because their Father in Heaven owns all things. "For everything comes from him and exists by his power and is intended for his glory. All glory to him forever! Amen."
Sadly, I've heard people in Ghana who should know better, questioning a diligent and passionate worker taking risk and ownership and being innovative, an intrapreneur, as follows: "Adɛn? Adwuma no ɛyɛ wo papa dea?" To wit, "Why this hard work? Is this enterprise/organization your father's?" The answer is supposed to be an apparent "no" but what if everyone of us who calls God "Father" responds, "Ampa! ɛyɛ me papa dea!" Meaning, "Yes! Of course! It is my Father's. This is my Father's world."
LET'S DO THIS!
I wish everyone was an entrepreneur like my wife and me since there are enough problems to be solved in our world and profit to be made as a reward. Besides, I encourage people to separate their profession from their business, meaning, the fact that they have some employment or career does not exclude them from owning a side business for multiple streams of income (as long as you're doing excellently well in your regular job and not robbing Peter to pay Paul). But the reality is that not everyone will be a business owner. Indeed, everyone doesn't have to be an entrepreneur but everyone can (and must) be entrepreneurial, especially as an intrapreneur.