Exciting news! Perbi Cubs Library Services is teaming up with the United Nations Educational, Scientific and Cultural Organization (UNESCO) and the Ghana Book Development Council, among others, to celebrate Accra World Book Capital (AWBC '23) as official partners. Accra, the capital city of Ghana, in West Africa, is the 23rd city in the world, and only the fourth in Africa, to have the honour of this title which UNESCO initiated in 2001 to promote literacy globally. This is akin to a literacy World Cup title, only it is bestowed annually.
The World Book Capital is an initiative of UNESCO which recognizes cities for promoting books and fostering reading for a year, starting on April 23, World Book and Copyright Day. UNESCO adopted the 31 C/Resolution 29, in 2001, establishing the World Book Capital (WBC) programme. Cities designated as UNESCO World Book Capital pledge to carry out activities with the aim of encouraging a culture of reading and diffusing the values of literacy, lifelong learning, copyright, and freedom of expression in all ages and population groups, both within and beyond national borders. The first city to be awarded was Spain in 2001 and Accra's turn is sandwiched between Guadalajara, Mexico (2022) and Strasbourg, France (2024).
The UNESCO World Book Capital Advisory Committee, which evaluates bids to win the title, comprises representatives of the International Publishers Association (IPA), the International Federation of Library Associations (IFLA), the International Authors Forum (IAF) and UNESCO. Past capitals include Madrid (2001), Alexandria (2002), New Delhi (2003), Anvers (2004), Montreal (2005), Turin (2006), Bogota (2007), Amsterdam (2008), Beirut (2009), Ljubljana (2010), Buenos Aires (2011), Erevan (2012), Bangkok (2013), Port Harcourt (2014), Incheon (2015), Wroclaw (2016), Conakry (2017), Athens (2018), Sharjah, (2019), Kuala Lumpur (2020) and Tbilisi (2021).
THE GHANA JOURNEY
Accra's first attempt to win the 2019 World Book Capital title, after the idea was mooted in 2016 and working towards that, failed. Accra relaunched the bid in April 2021 and won it. The executive board of UNESCO, at its 215th session in Paris, France, on September 22, 2021, named Accra the World Book Capital 2023, following evaluation by the World Book Capital Advisory Committee. This was no mean achievement for the ten-member bidding team representing the Accra Metropolitan Assembly, Ghana Commission for UNESCO, Ghana Library Association, Ghana Publishers Association, Complementary Education Agency (formerly Non-Formal Education Division), Ghana Association of Writers, and the Ministry of Foreign Affairs and Regional Integration and chaired by Mrs Ernesticia Lartey Asuinura, the Executive Director of the Ghana Book Development Council (GBDC). Several internal staff of GBDC were behind this successful bid and must be applauded.
According to UNESCO, "the city of Accra was selected for its strong focus on young people and their potential to contribute to the culture and wealth of Ghana. Accra's proposed programme seeks to use the power of books to engage these young people, as an effective way of skilling up the next generation." Earlier this year, on April 11, the Minister of Education of Ghana, Dr. Yaw Adutwum, held a press launch of AWBC'23 at which Perbi Cubs was represented by the Founder and CEO, Mrs. Anyele Perbi. He explained that Accra was selected ahead of other cities because the Education Ministry's programmatic focus was on young people and their ability to contribute to the culture and wealth of Ghana through the power of reading. "Research shows that reading improves the learning outcomes of students in schools,' said the Minister. "That's why in certain schools around the world, they've implemented and employed the 'Drop Everything And Read' – 'DEAR'.  So if it's 15 minutes, 20 minutes a day, children are made to stop everything and read," he illustrated.
Dr. Yaw Perbi, Global CEO of The HuD Group and Co-Founder of Perbi Cubs, and Mrs. Anyele Perbi , Founder and CEO of Perbi Cubs, were invited and did attend the grand opening of AWBC '23 by the President of the Republic of Ghana, Nana Addo Dankwa Akufo-Addo, and the Director-General of UNESCO, Madam Audrey Azoulay Ayoub, at the Accra International Conference Centre. The theme for the occasion was 'Reading to connect minds for Social Transformation'. It was encouraging interacting with school children as well as top academics at the Perbi Cubs booth, including members of the Ghana Academy of Arts and Sciences. Visiting the exhibition booths of other players in the literacy space was also invigorating but nothing beat the joy of seeing the attending school children flock to the Perbi Cubs stand to sample for a few minutes the thousands of books on their online platform.
Under the theme 'Reading to connect minds for social transformation' the programmes planned for the title year will focus on particularly the youth and vulnerable groups in Accra (and Ghana at large) such as children, underemployed women, head-porters (kayayei) and persons living with disability, to equip them with literacy and employable skills, while promoting the rich Ghanaian cultural heritage and the book industry in Ghana.
THE PERBI JOURNEY
Both Yaw and Anyele Perbi (née Ampa-Sowa) come from homes full of books. In fact, they got to know each other as children of professors at the University of Ghana campus. Anyele's dad was an Economics lecturer and Yaw's mum, a history lecturer. In their growing up years Yaw's own dad, being a long-time member of the board of Challenge Bookshop, would receive loads of books every year, feeding their home library fat.
Tracing the history of books even further, Yaw's maternal grandfather was not only an author and professor of African Studies and Ethnomusicology at the same university, but also  together with writer and educator Dr. Efua Sutherland organized the first international book fair in Ghana in the early 1970s and proceeded to come together to found Afram Publications a couple of years later, incorporating it in February 1973. Emeritus Professor J.H. Kwabena Nketia was his name.
The Perbi household buzzed with books and moments like when the floating bookshops, the MV Doulos or Logos ships, would berth at the Tema Harbour were fun galore. Meanwhile, Yaw did not like reading as much as Anyele in their early years on the Legon campus. Anyele LOVED reading to the point that the rate of buying books for her and her two brothers was threatening to bankrupt her parents. When she was missing from the house you could be sure she was immersed in a book somewhere!
Two jerking statements changed Yaw's attitude towards books. The first was, "If you want to hide something from a Black people, put it in the book." You may read the full story here. Fascinatingly, by the age of twenty-three, Yaw would write and publish his first book, What Every Fresher Should Know about University, and as an internationally-recognized author of some twenty books and several book chapters, journal articles etc. now, as they say, the rest is history. Today, one of his punchy books called Read! is subtitled: "You are 'illiterate' if you can read but don't." Dr. Perbi's 2015 Thinking Outside the Window was even an Amazon bestseller in its category. His latest book, co-authored with a Kenyan and published in March 2023, is entitled Africa to the Rest. In it, Yaw stresses the need for Africans not only to read but also to write. "Until the lion learns to write," he reminds us, quoting an old African wise saying,  "every tale of the hunt will glorify the hunter."
When Yaw founded The HuD Group in 2003, one of its first divisions was a library called The Mine (it still runs at the Staff Village of the University of Ghana). So for at least two decades now, Dr. Perbi has been a fierce reading campaigner. And now in tandem with the erudite Anyele, he likes to say "my wife and I have stepped up by stepping down." What he means by that is, they've enhanced their reading campaign (stepped up) but decided to go further down to the age where humans are most pliable: childhood (stepping down). And they began with their our own seven children in the French city of Montreal, Canada which happens to have been the UNESCO World Book Capital in 2005, four years before they would dwell there as a family for the next dozen years. Their own children's love for reading, the generous 40 books per person supply of the Pierrefonds municipal library across the street from their West Island home and an imminent eight-month visit to Ghana that threatened to stifle this Perbi reading culture combined to birth the Perbi Cubs Library Services. You may find the story and philosophy behind Perbi Cubs here.
AND NOW, KANÉVAL
According to Perbi Cubs CEO, "We are excited to inform you that Perbi Cubs, in partnership with UNESCO Accra World Book Capital 2023, will be organizing a fantastic year-long program. Watch out for Kanéval as it moves round throughout the year, to your school or community. Stay tuned on the various Perbi Cubs social media handles like Facebook, Twitter, LinkedIn and Instagram for more updates." Kanéval by Perbi Cubs, a season of fun, inspiration, and BOOKS, is launching in Accra on May 11, 2023.
As long as reading remains a chore, we'll have a problem promoting it. But who doesn't love a good festival, a carnival? What if we could think outside the box and bring together the idea of a traveling amusement show with merrymaking sideshows, rides, etc. with reading? What if face-painting or getting on a swing was a reward for reading a book? These are some of the disruptive ideas that incubated and eventually hatched Kanéval. The idea of Perbi Cubs in general and KANÉVAL in particular, is to bring FUN to reading while strongly brandishing the connection between reading and success in life.
In the spirit of innovation and creativity, Perbi Cubs values, the coined word Kanéval was inspired by the word for read in Ga, the language of the Accra people, Kané. So combining 'Kané' with the English word 'carnival,' here we are! There will be lots of fun, reading and other educational activities. Perbi Cubs is grateful to several Ghanaian influencers like Nana Aba Anamoah (media personality and General Manager of GHOne TV and Starr FM), Bernard Avle (Citi Breakfast Show host and General Manager of Citi FM), Kafui Dei (author, speaker and GTV Breakfast host), Portia Gabor (TV3 hostess and Ghana Journalist Association's reigning Journalist of the Year), Gwen Addo (entrepreneur, author and CEO, The Hair Senta), Giovani Caleb (media personality, radio and TV), Gifty Anti (author, media personality, celebrated journalist) and others who are synergizing with them to take the culture of reading to the next level to transform the fortunes of Ghana and Africa.
Perbi Cubs' Kanéval is scheduled to take off on 11th May, 2023 at Alpha Beta Education Centres and then to all their partner schools and other communities, particularly deprived ones badly needing a literacy intervention. Kanéval is not just for our Cubs but all our stakeholders including you. There are many activities you can join in with exciting prizes. Kanéval awaits you for a Kanévalistic experience. Kanéval – Reading is fun!!! The amazing part is that in collaboration with various partners, Perbi Cubs is offering huge discounts on their subscriptions so that every Cub in their partner schools can read this year!
WE HAVE A PROBLEM
Kanéval is fun about something serious. And Ghana in particular has a problem that isn't funny. As a society we do not value reading enough. If research has proven that the love for reading is a stronger indicator of a child's success in school and prosperity in life than even their parents' socioeconomic status or level of education, then we should be worried that only 6% of Ghanaian children at classes two and three can read and understand what they read (UNESCO 2021). Meanwhile the World Book Capital Network (WBCN) acknowledges and reminds us of the power of books and reading as cornerstones to more inclusive, peaceful and sustainable societies. Thus as they rightly put it at Perbi Cubs, "Success is just a book away," be it personal or national.
Let this be the year we all got dead serious about raising the tide (the general level of literacy) that lifts all the other boats, all sectors and subjects, including STEM. O that the confluence for influence between Kanéval by Perbi Cubs, influencers like those cited above and all other players in the UNESCO's Accra World Book Capital 2023 space will do the trick. Let's get on with this serious business, having fun along the way. Kanéval it is!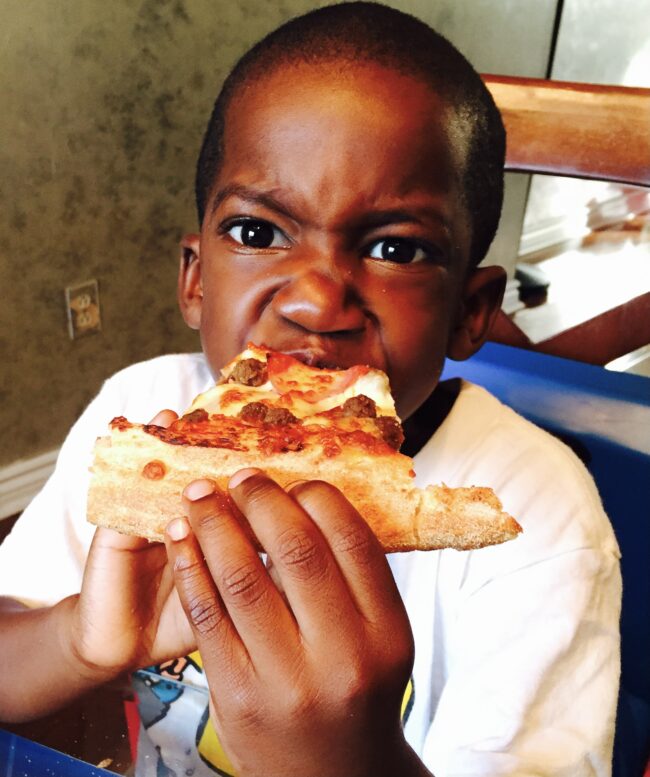 Artificial Intelligence (AI) is exciting and scary at the same time! Here's a satirical example (there are many variations online) about what should've been an ordinary exercise ordering ordinary pizza on an ordinary day.
Hello! Is this Gordon's Pizza?
No sir, it's Google's Pizza.
Did I dial the wrong number?
No sir, Google bought the pizza store.
Oh, alright – then I'd like to place an order please.
Okay sir, do you want the usual?
The usual? You know what my usual is?
According to the caller ID, the last 15 times you've ordered a 12-slice with double-cheese, sausage, and thick crust.
Okay – that's what I want this time too.
May I suggest that this time you order an 8-slice with ricotta, arugula, and tomato instead?
No, I hate vegetables.
But your cholesterol is not good.
How do you know?
Through the subscribers guide. We have the results of your blood tests for the last seven years.
Maybe so, but I don't want the pizza you suggest – I already take medicine for high cholesterol.
But you haven't taken the medicine regularly. Four months ago you purchased from Drugsale Network a box of only 30 tablets.
I bought more from another drugstore.
It's not showing on your credit card, sir.
I paid in cash.
But according to your bank statement you did not withdraw that much cash.
I have another source of cash.
This is not showing on your last tax form, unless you got it from an undeclared income source.
Enough already!  I'm sick to death of Google – Facebook – Twitter – WhatsApp and all the others!!  I'm going to an island without internet, where there's no cellphone and no one to spy on me …
I understand sir, but you'll need to renew your passport … it expired six weeks ago!