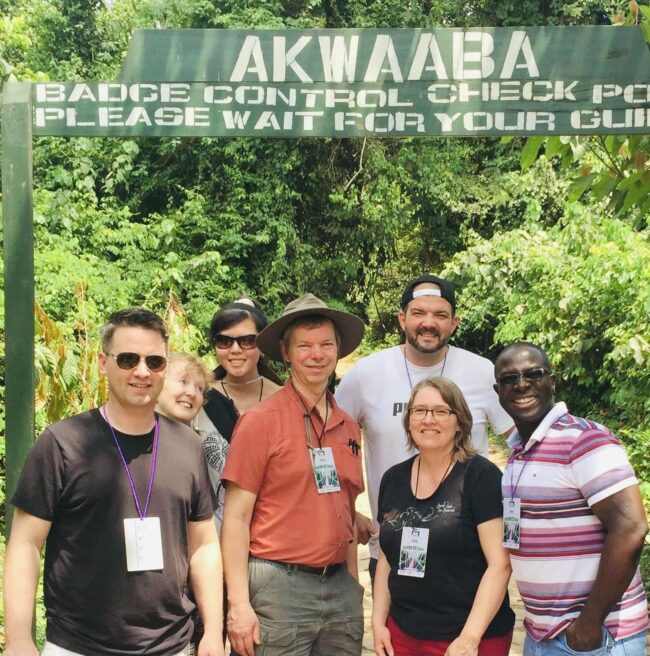 This month I clocked eight years as president and CEO of a strategic Canadian charity in the international education space. I was headhunted for the role and felt privileged to be the first ever black president of our almost 40 years old organization. We provide hospitality, faith exploration opportunities and leadership development for the over half a million international students in Canada to be empowered to impact the world. I've had the privilege of leading about 90 incredible staff across 23 cities from coast to coast–Canada is the second widest country on earth after Russia–and oh yes, we have a staff family serving in Australia too.
SO WHY ARE YOU LEAVING?
In the first couple of years under my leadership, we grew by about 70% (short of my 100% goal) in new staff and new fields, expanding into about a dozen new cities, extending coast to coast for the first time in the organization's history. There've been many more exciting things that have happened, including seeing such a rich diversification of our staff to about 15 nationalities. One of my greatest joys has been to see former international students becoming leaders of our work in cities, regionally and even in senior leadership. Every quarter we chronicle story upon story of incredible impact on students/scholars by staff and volunteers and impact of our students and alumni around the world, from Australia to Zimbabwe! We've seen an organization little known organization gain significant recognition in the international education space in Canada and abroad. Together with the leaders and staff, we worked to move organizational health from OK to healthy to flourishing (as independently adjudged by a third party firm). When I hear of CEO versus board tussles I cringe and thank God that this has been far from my experience. I've had such a congenial and synergistic relationship with the board, which has rotated through four chairpersons over the period I've been president.
If everything is going as well as I claim, then why am I leaving? My work is done! I believe every leader has a particular purpose to a particular people in a particular place for a particular period and when your work is done, you pack up and go, leaving the place and people better than you found them. I had initially been approached for this role in late 2012 and had laughed it off, especially since I was not only running The HuD Group, which had just received charitable status in Canada, but was also doubling as interim pastor for the Montreal Chinese Alliance Grace Church. Eventually I did take the five-hour flight from Montreal to Calgary to interview with the board. When Anyele and I prayerfully decided to make some adjustments and finally accept the board's offer, I specifically stated that I planned to do this presidency for three to five years. In fact, I ensured it was clearly spelt out in the documentation. Well, guess what? It's been three plus five years. It's time to go!
MUSIC AND DANCING WITH GRAPHS
It is time to leave because my particular purpose to a particular people in this particular place for this particular period is done. As a wise saying in Africa goes, you leave the dance floor while people are still enjoying your dance. What Africans say so well idiomatically, Westerners tend to express graphically. So below is a pictorial illustration of what I'm saying.
While the above graph refers to the life cycle of any organization per se, it is similar to the organizational leader's cycle too. Don't wait to peak, let alone to get into decline and eventual death. That is not great for your leadership but even worse, not good for an organization you supposedly believe in (and even love). Just before the peak is when you collaborate with the 'DJ' (stakeholders) to start another song i.e. launch another initiative, start a new programme, launch a new organization etc. Just before the peak is when your dance is still being enjoyed so you either start another song or gracefully leave the dance floor!
By the time one hits the peak itself, you are stretching it. Folks are beginning to get tired of your moves. After the peak, it's all downhill, babe! And no matter how hard you dance (in spite of how very tired you might be) no one's excited anymore. Not only have eyes started rolling all the way into the head, some may even have begun yawning by now. Bored. Yet, some leaders still don't get it!  Whether it's because of the adrenaline rush on the dash floor or the perks of the position, they keep dancing and dancing and dancing, while they keep losing the audience until the music is over! Some even keep dancing after the music is over, dancing to the music in their heads. It's a fight together them off the dance floor! If you don't leave the dance floor while people are still enjoying your dance, at least leave while the music is still playing! Worst case scenario, far from ideal, leave when the music is done.
A POLITICAL CONCLUSION
Knowing when to leave the dance floor is more of an art than a science; it's a soft thing akin to discernment and intuition. The greatest leaders like Nelson Mandela have it; they just know. When everyone was urging Madiba to do a bonafide and very welcome second term in office as South Africa's first black president who had had a good run, he declined. "No, please." Nelson Mandela left the dance floor while we were all not only still enjoying his dance, we were urging him on for more moves!
Knowing very well that some leaders wouldn't have what it takes to leave the dance floor even when it's obvious, many spheres of society have term limits on executive roles. Most political jurisdictions have a maximum of two four-year terms. As an African, I've been embarrassed by how many of our leaders haven't had what it takes to gracefully leave the dance floor while we were still enjoying their dance. Mandela, unfortunately, is more of an exception than the rule. As a former United Nations peacekeeping soldier, I've tasted first hand the horror of the ravages of civil strife and war when leaders don't want to leave the dance floor even after the music is over. I hate it!
I join those concerned about the "pandemic of 'third terminism'" in Africa, including in the West African country I served in as a U.N. Peacekeeper from June 2008 for a year and lost two of my medical colleagues to death. Oxford defines 'third terminism' as the phenomenon of leaders seeking to break constitutional term limits—usually set at two terms in office—to secure a third term in office. The phrase has also been used more broadly to refer to leaders who refuse to leave power. This isn't uniquely African; it is simply human. Recently, Putin has done it in the east and in the west, Trump did not want to leave the floor when his music was over. In fact, it was Franklin D. Roosevelt's 'third terminism' (he won, even a fourth!) and the popular fallout about the concept of a long-term president that led to the ratification of the 22nd amendment in 1951 that "No person shall be elected to the office of the President more than twice…"
According to the National Constitution Centre, "Franklin Roosevelt wasn't even the first Roosevelt to seek a third term in the White House. His distant cousin, Theodore Roosevelt, ran unsuccessfully as a third-party candidate in 1912, after declining to run in 1908. President Ulysses S. Grant also sought a third term in 1880, but he lacked enough party support to get a nomination."
George Washington, the first U.S. president, had set the two four-year terms maximum precedent in 1796 when he declined a third term. In 1799, a friend urged Washington to come out of retirement to run for a third term. But as I earlier asserted, the greatest leaders know when to leave the dance floor–and stay off! Washington's voluntary decision to decline a third term, like Mandela's voluntary decision to decline a second, was apparently seen by many people as a safeguard against the type of tyrannical power yielded by the British crown during the Colonial era.
 In my next article, I shall share about how to leave the dance floor in grand style (some call it 'succession management'). In the mean time, you, my friend, now know when to leave the dance floor–at best when people are still enjoying your dance; or at least, while the music is still playing!