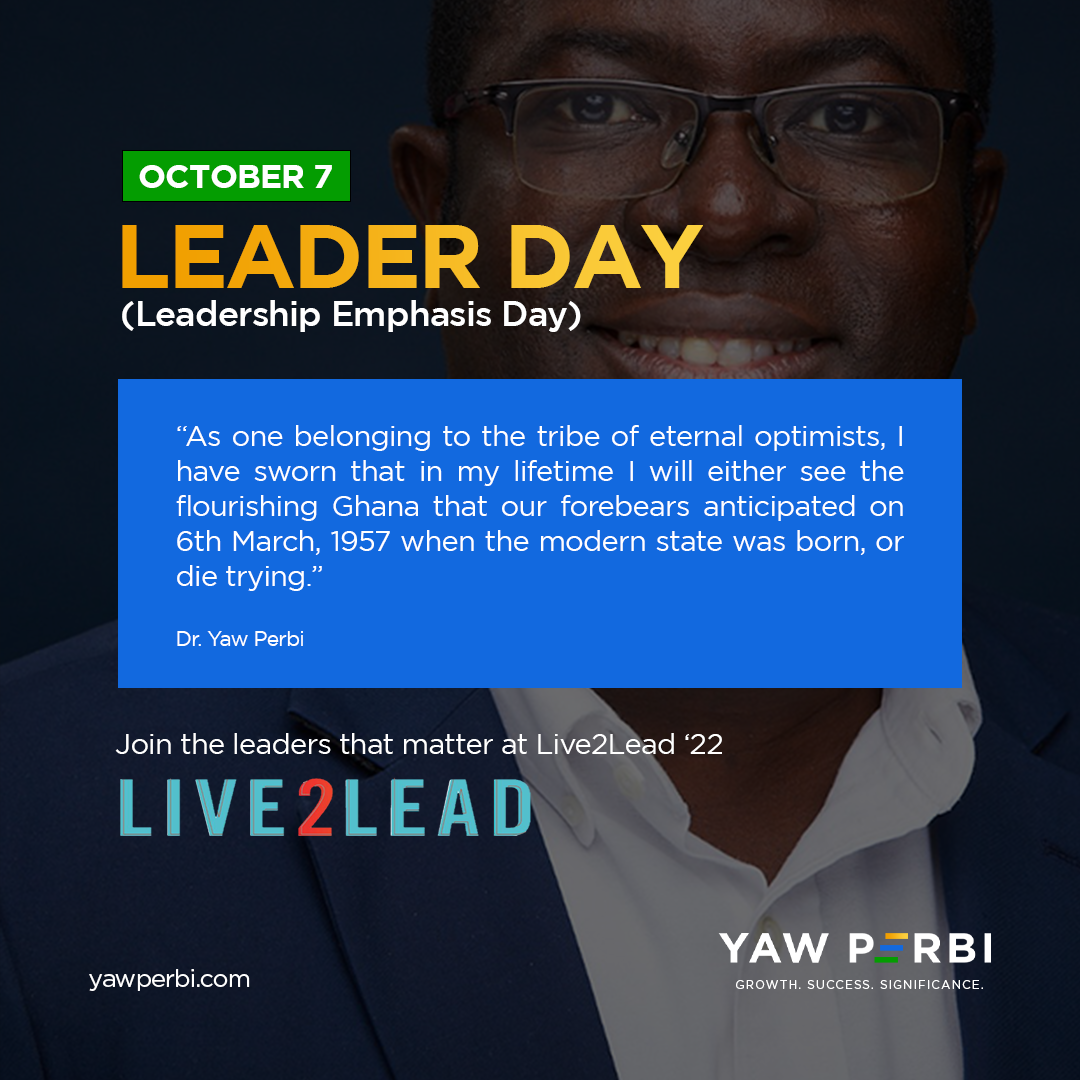 The world is not in a good place. Leadership is the cause. And when it comes to Ghana's situation in particular, I have personally been shocked at the number of C-level leaders I have interacted with that have either completely lost hope in the future of the country or nearly have. "How did we get here???" one CEO of a major bank asked me via text (yes, with three question marks).
If "everything rises and falls on leadership" and "leadership is cause, everything else is effect," then there is no other way than to attribute the politico-socio-economic state of our nation to leadership (or the lack thereof). In the same way, if there is any one thing that will elevate the conversation, and the nation with it, it is leadership.
DO OR DIE TRYING
As one belonging to the tribe of eternal optimists, I have sworn that in my lifetime I will either see the flourishing Ghana that our forebears anticipated on 6th March, 1957 when the modern state was born, or die trying.  When the nascent nation was named 'Ghana,' our great grandparents were hopeful it would reflect the prosperity of the old Ghana empire, hence our new name (from Gold Coast). Oh, it bears repeating: our tribe of eternal optimists will see to a prosperous Ghana in our lifetime or die trying.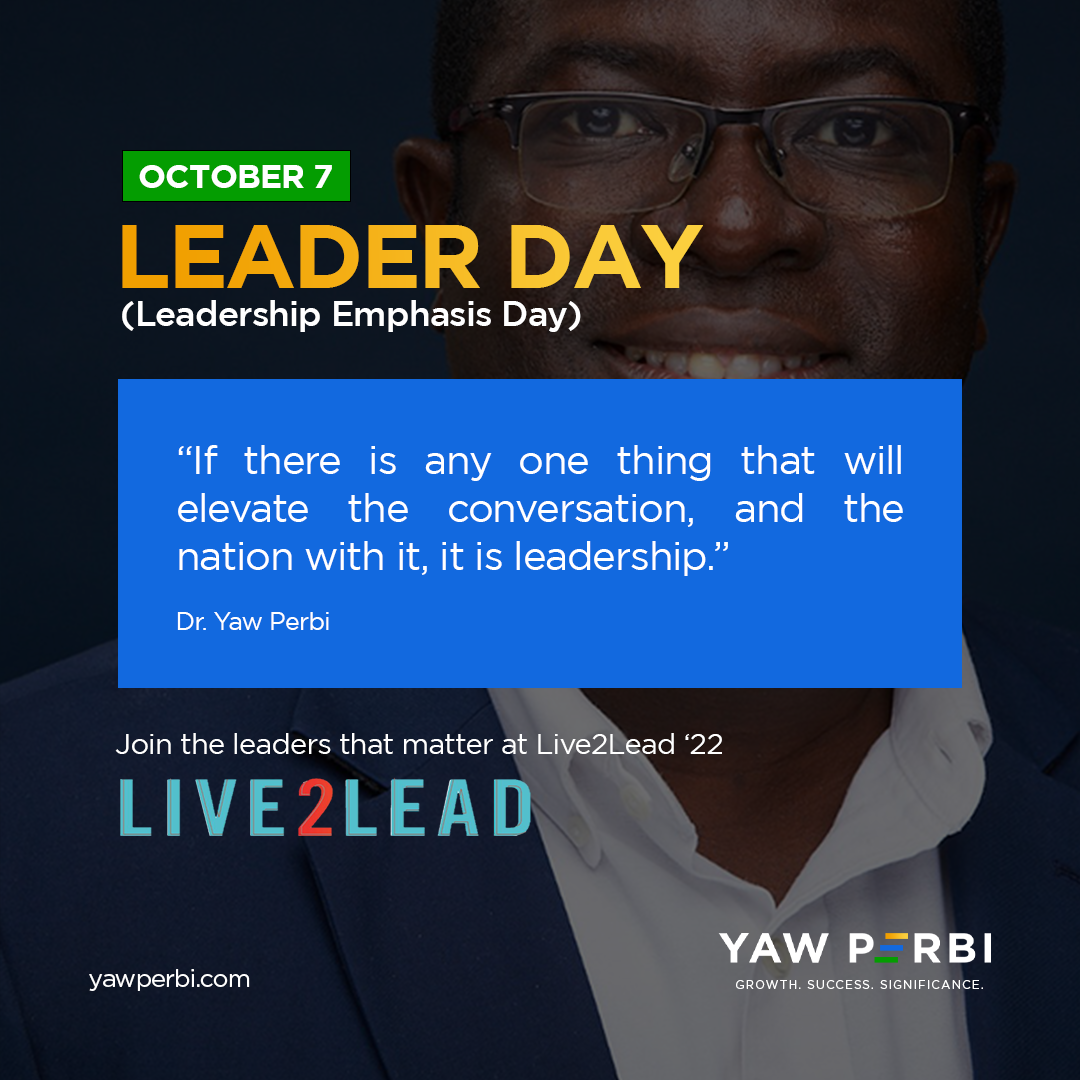 "I HAVE A DREAM, I HAVE A DREAM…"
Every true leader has a dream they passionately pursue with their people. I realize there is a day dedicated to almost every cause under the sun and pretty much each of the Sustainable Development Goals (SDGs)—women's day, water day, literacy day, friendship day, founders day …  even toilet day. Yet the one thing that causes each of these matters to rise or fall has no such day dedicated to it to elevate and emphasize it. Even then, is a day enough? Surely not; but it is a good catalyst for the remaining three hundred and sixty four (or five) days.
My fellow Maxwell-trained and certified collaborators in Ghana and I have a dream that ultimately the first Friday of October each year will become universally known as LEADER DAY. There is nothing special about the first Friday in October per se except that consistently for about a decade now, our mentor and leadership expert, John C. Maxwell, has been gathering some of the best leadership minds and hearts on the planet to speak to the issue, and we might as well leverage the opportunity rather than reinvent the wheel. Live2Lead is the name of that event. The name says it all, that's our purpose on earth: We live to lead.
Gwen Addo, the pulchritudinous CEO of the Hair Centre and speaker at Live2Lead Ghana '22 affirms this vision: "I also pray your dream comes true and October 7 becomes a "leadership day" or perhaps October becomes a "leadership month."" She continues, "leadership is close to my heart … and why not dream it bigger than just a day."
You and I know the dearth of leadership in our country. We, Maxwell certified trainers who are Ghanaian, are aiming to get 2,000 leaders at all levels to benefit from the LIVE simulcast from Atlanta. We will organize local content for our context first, sandwiching the global feed. You would want to be with Patrick Awuah (Founder & CEO, Ashesi University), Patricia Obo-Nai (CEO, Vodafone), Uncle Ebo Whyte (CEO, Roverman Productions), Gwen Gyimah Addo (CEO, The Hair Senta), Kathleen Addo (Chairperson, National Council for Civic Education) and Kwamina Asomaning (CEO, Stanbic Bank). The core issue on the table this time, or shall I say by the fireside, is "Leading with Integrity & Inspiring Hope, for the Common Good."
STRATEGY
On October 7, we shall convene 2,000 Ghanaian leaders online. At least half of them will be from 100 companies, institutions and organizations which would send 10 of their leaders to Live2Lead as their investment in themselves as well as boldly staking their claim in the prosperity of Ghana by raising the leadership lid in the country, one company at a time. All these companies will be listed as patrons in the event handbook, website and social media (in alphabetical order).
The other half will be made up of executive leaders from the private sector, the establishment leaders (public service) and emerging leaders from our schools and universities, representing the next generation. Companies, institutions and organizations which want to go beyond patron status will be given opportunity to sponsor the establishment and emerging leaders in exchange for significant air time and eyeballs.
This 2,000 is only for starters; we shall double in 2023; and double again and again till at least 2% of all leaders in Ghana are connected to this Live2Lead tribe of learners who lead and leaders who learn. That is the exact critical mass needed to see a self-propagating movement of leaders worth following in Ghana: 2% of the  leader population.
CONCLUSION
The feedback from the ground as I have gone around is damning. Ruinous to the extent that although the theme we initially chose for our local content is 'Leading with Integrity for the Common Good,' we've had to come up with a conjoint theme of HOPE. Our people need hope. Leaders are brokers of hope, thus when they themselves are broken to the extent that they have no hope, what shall the rest of the people do?
Arise Ghanaian leaders!, established and emerging ones alike. We are better than this. Yet perhaps we are expecting leadership behaviours, values and attitudes that we haven't first trained into people. Since we Live 2 Lead (that's our purpose) let's then Live 2 Learn (that's the process) so we can all lead better and all make our nation great and strong. When the leader gets better, everyone and everything else does too. So let's all show up!
One day in October, for starters. Just one day but who knows? Perhaps 'October Day' will in my grandchildren's day be as well-known as 'May Day' is today. And for even better reasons, leadership-wise.
PS.
An event is not enough for sustained transformation thus there are leadership development and training pathways that will later be shared as a follow-up process between October 7 and the next Leader Day a year hence.