Over the last week, somehow this notion of needing to work harder on yourself than you do on your job has come up with two or three different coaching clients. For the CEO of a crucial agro business firm in West Africa, the financial services entrepreneur in Canada and the PhD-wielding academic on the east coast of the United States, the three reasons I'm about to share held true. It is true for you too.
For the record, I work hard and believe in hard work. I also work smart and absolutely promote the idea of brain over brawn anyway. Over a decade ago I came up with the phrase, "brain power pays; muscle power pains." I subscribe to the Pauline exhortation that "whatever you do, work at it with all your heart, as working for the Lord and not for man." So by all means, work hard and smart on your job, but work even harder and smarter on yourself.
Here are three reasons why:
1. WHO YOU ARE IS MORE IMPORTANT THAN WHAT YOU DO
No matter how hard or smart you work, the instrument for the doing the do is you. If the input into you doesn't match or exceed the output, that will soon be your undoing. Let me put it in a way one of my staff in British Columbia said it to me a few years ago: "If your output exceeds your input, then your upkeep will be your downfall." Classic! Not only will you soon not be effective and efficient when your self input is less than your job output, it is unsustainable and you might end up becoming irrelevant. And sometimes, irrelevant not just in terms of knowledge and skills for a context that has progressed because you're not healthy or even physically alive anymore–you killed the goose that lays the golden eggs!
Consider these sagacious words of educator Palmer Parker:
"When I give something I do not possess, I give a false and dangerous gift, a gift that looks like love but is, in reality, loveless—a gift given more from my need to prove myself than from the other's need to be cared for…. One sign that I am violating my own nature in the name of nobility is a condition called burnout. Though usually regarded as the result of trying to give too much, burnout in my experience results from trying to give what I do not possess—the ultimate in giving too little! Burnout is a state of emptiness, to be sure, but it does not result from giving all I have; it merely reveals the nothingness from which I was trying to give in the first place."
Remember, who we are is more important that what you do, because we do whatever we do out of who we are: our identity, character, values.
2. ONE MEANS A LIVING, THE OTHER MEANS A FORTUNE
Classic motivational speaker of blessed memory, Jim Rohn, poignantly put this in a way like nobody else has: "Learn to work harder on yourself than you do on your job. If you work hard on your job you can make a living, but if you work hard on yourself you'll make a fortune." This statement, I believe, is a variation of timely advice Jim himself received from his mentor J. Earl Schoaf. Jim had heard him give the reason for why the job only pays the bills but the latter ends in billions: work harder on yourself than you do on your job; your income is directly related to your philosophy, not the economy; and for things to change, you must change.
From a one-year college drop out living from pay check to pay check as a stock clerk at Sears, this advice catalyzed a five-year mentorship of Rohn by Shoaff, encouraging him to develop himself and pursue his dream of a better life such that by age thirty one, Rohn was a millionaire! It was a really sad day when this motivator of motivators like Anthony Robbins, Less Brown, Brian Tracy and Denis Waitley, passed away in December 2009.
Friend, work harder on yourself–from your paradigms through your attitudes to your skills. It's the software that you carry and apply to a variety of endeavours, not only your job, that will unlock abundant wealth and well-being.
3. JOBS COME AND GO BUT YOU'LL STILL BE HERE
Sometimes people leave jobs; other times jobs leave people.  In the kind of post-pandemic economies we have now, more jobs leave people than people leave jobs. Certain whole industries have been wiped out, for crying out loud! I've marvelled at how many pilots have been literally grounded and have had to find some other kind of livelihood. What if all you did was work hard on your job and never grew your other interests, talents and skills or even never networked beyond the 'boys club' in your profession?
When many years ago I decided to take the path of the risk of entrepreneurship rather than the 'security' of a regular paid job, some people who thought I was crazy later found out they had been crazy to think 'owning a job' was better than owning a business when in spite of their qualifications, loyalties and skills their jobs were cut. Former Microsoft COO, Kevin Turner, said it best: "The only job security we have is our individual commitment to personal development." Your job today may not be there tomorrow–in fact your entire industry might not be there–but you will. Work harder on yourself than you do on your job forwhen tomorrow comes, your preparation will meet opportunity. That's what they call success.
QUICK PRESCRIPTION
Do the following to ensure you are working hard on yourself for your personal growth and development: set aside a time for YOU, a ME time, everyday. Mine is 5-6am everyday during which I read my personal mission statement, review my goals, read for at least 15 minutes and express my thoughts and feelings in writing.
For all the coachees I mentioned at the beginning of this blog, each was working super hard at their jobs. It is my job to ensure that while they do that, they strive towards working even harder on themselves than they do on their jobs. There's no great future for anyone without that.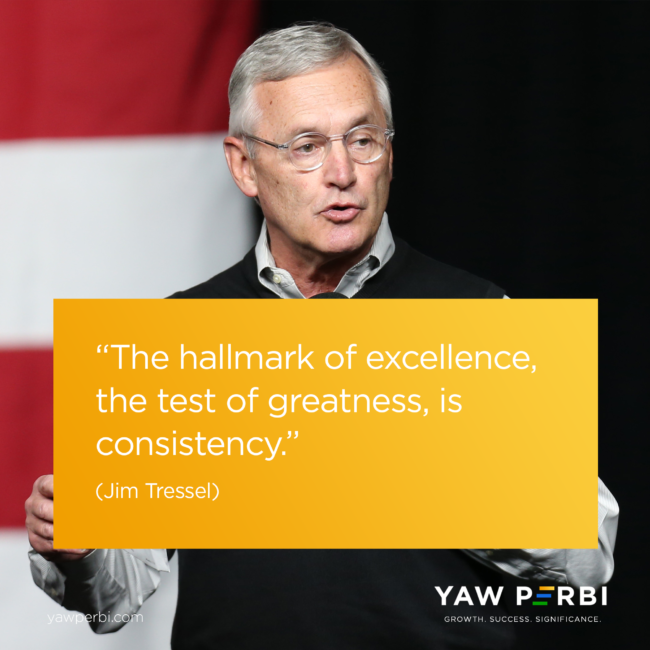 In my late teens when I was introduced to the whole area of personal growth and success I started practising a number of things successful people do without necessarily knowing why. One of them was that they always took their receipts upon purchases. That became an adopted habit for about 10 years before I really got to understand why (that will be for a different day and blog).
One other thing that really fascinated me was the notion that successful people are predictable, consistent; or if you like, plain boring.  This was not only in the sense of living a principle-centred life and holding unswervingly to their values but that they had fixed routines. You could literally 'time them' and 'assassinate' them because it was predictable where they would be, when, and what they would be doing literally every day of the week. That's precisely what I mean by "successful people are boring." Same. Same. Same. Same.
So I began to adopt strict routine in many areas of my life including consistently waking up at 4am to spend time in scripture and prayer, thinking, reading and writing. And I have done that consistently for over 25 years now. By the time the rest of the world wakes up and gets going, I would've had a 2-3 hour headstart and been über productive.
But now I understand why that consistency breeds success. This is in line with a number of fundamental, universal truths, three of which I would like to share here.
1. RIDING THE LAW OF CONSISTENCY
The Law of Consistency, which leads to growth and success states, "Motivation gets you going; discipline keeps you growing."  Anyone who gets a spark of inspiration or motivation overcomes the law of inertia momentarily but really how long does it last? I heard someone complaining about how transient the umph one gets from motivational talks is.  A seasoned motivational speaker responded, rather tongue-in-cheek, "Of course! So are breakfast, lunch and supper!" Like meals, morsels of motivation also  need to be taken in reasonable doses several times a day (and in a week) to jumpstart us but what really keeps the wheel of success turning always is discipline.  Discipline is doing what we need to do even when we don't feel like it. And that is the difference between those who succeed and those who don't. E.M. Gray was spot on: "The successful person has the habit of doing the things that failures don't like to do. The successful person doesn't like to do them either, but his dislike is subordinated to the strength of his purpose."
Disciple is hard; but what makes it more bearable is having a strong WHY, a strong end in mind. The other thing that makes it more doable is discovering your personality (eg. through the DISC behavioural assessment) and linking how you're wired (what motivates you naturally) with the act you need/want to be consistent with. So for me, being a high D and loving to be in control, I'm greatly motivated to take charge of my morning knowing fully well that no one would be up to disturb me and I can get stuff I want to do done. You've got to a find a way, man, for success lies in our daily routine.
"We are what we repeatedly do. Excellence, then, is not an act, but a habit" is famously attributed to Aristotle. What he actually (originally) said was, "As it is not one swallow or a fine day that makes a spring, so it is not one day or a short time that makes a man blessed and happy." The essence of both statements is the same. John  Maxwell pulls no punches here: "You will never change your life until you change something you do daily." What are you like E-V-E-R-Y-D-A-Y; what do you do  E-V-E-R-Y-D-A-Y?
2. RIDING THE LAW OF MOMENTUM
People who are consistent with routine don't waste precious time and energy figuring out every single day what to do with themselves. If you don't have a menu, for example (my household does), you know by now how much time and energy can be consumed just by the question: what am I going to eat this afternoon? I have spent an hour on that useless exercise before!
Just like Newton's first law of motion states, every object will remain at rest or in uniform motion in a straight line unless compelled to change its state by the action of an external force. What is true in Physics–and we tend to appreciate physical laws much more than the unseen laws of life–is the very thing that makes habits so powerful! "Once you pop, you can't stop" says the Pringles advert. Success can become a habit; so can failure.  In fact, Vince Lombardi once said, "once you learn to quit it becomes a habit." Let the Law of Momentum
When John Maxwell launched 15 Invaluable Laws of Growth in Atlanta, I was there in person. A privileged few joined him for an intimate lunch session. I couldn't believe the degree of his consistency when talked about his "daily five." He said, "Everyday I read, I write, I think, I ask questions, I file."
"Everyday, John?" we asked?
"EVERYDAY," he responded.
On your birthday, John?
"EVERYDAY," was his reply.
"On Christmas Day to0, sir?"
"EVERYDAY."
3. HOW GENIUSES ARE MADE
It was my fellow Canadian, Malcom Gladwell, who first brought to my attention in his book Outliers, that 10,000 hours of practice of any skill makes one a genius.  Most people, he said, would've done 10,000 of practice within 10 years. During an ongoing Growth Mastermind I was almost envious of the surgeon  among us who says everyday he operates; e-v-e-r-y-d-a-y.  Imagine his success in 10 years' time when because of this consistency he has such gained ingenuity! What worthy thing are you doing everyday? Until you've done it consistently for 10 years, don't give up on success just yet.
CONCLUSION
Something you are doing EVERYDAY is determining your future. Conversely, something you are not doing EVERYDAY is determining your future also.  More often than not, motivation is overrated.  Motivation gets you going but discipline keeps you going, keeps you growing. What will you say is your single most consistent practice (everyday) that has brought you where you are in life today? Please share.