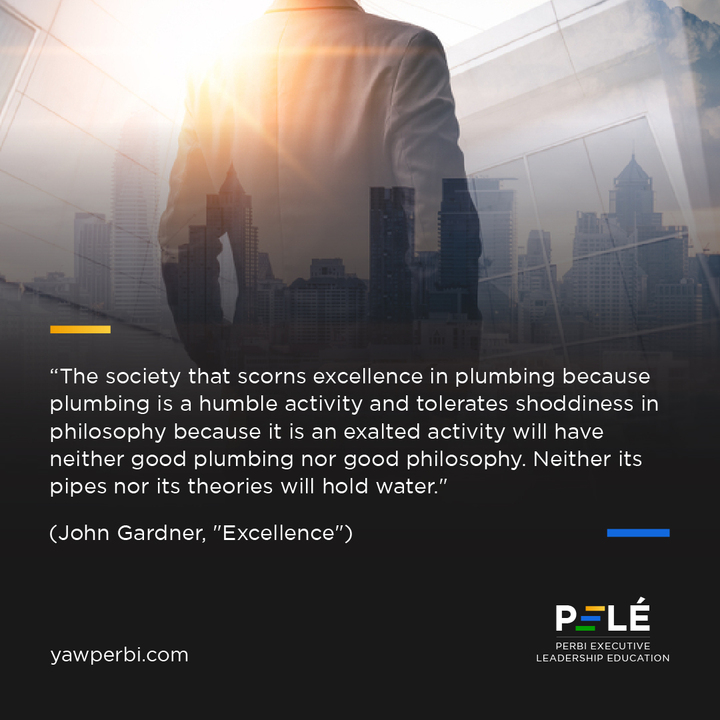 It's been a very busy few weeks. The last one in particular was the kind that Nelson Mandela would call "'impossible' until it's done." The very morn of the dawn I arrived back in Accra from Kenya, the first day of the work week, I had to be speaking at about 10am at an African Young Professionals Conference. That same week my team at PELÉ and the Ghanaian contingent of the African-wide BCA Leadership hosted the power-packed, two-day Made in Africa Leadership Conference (MLC) from June 13 to 15. Then there was a Youth Rally in the vicinity of the University of Professional Studies (June 15 evening) where l was  billed to speak as well. And then to crown that week, The HuD Group, which I founded with eight of my friends in 2003, held a press launch of our twentieth anniversary and simultaneous launch of three legacy projects.
In all of this business and busyness, one thing that has come through very clearly is that leadership is absolutely important–that everything does rises and falls on leadership. I tried to make that point in my opening remarks to the distinguished ladies and gentlemen convened at the Marriot for the aforementioned MLC 2023. Even this morning, as I was training the executive team of one of our PELÉ clients, a tech start-up, Maxwell's Law of the Lid came to the fore: leadership is the lid on their personal level of  effectiveness as well as the organization's impact that it would ever make.
Leadership is so important that every professional must have it, everyone in every sector of the economy must possess it, and everyone at every level of society must have it but especially leadership is too important to leave it to politicians alone. "Leadership is cause," as one other leadership expert puts it, "everything else is effect."
As we celebrate 20 years of The HuD Group, we can testify that God has done amazing things in, on, with and through The HuD Group. We started in Ghana, moved to Cote D'Ivoire, then to Nigeria and Canada and now have a presence in 24-25 countries on all continents, having incredible impact on people in every sphere. In fact, at the anniversary launch last week Friday, several VIPs like celebrated, young, award-winning journalist Manasseh Azure Awuni, shared how The HuD Group had impacted them. But I shared with the audience my one regret: that in all this 20 years of The HuD Group we did not give enough attention to the political space in particular. Of course, it is not that we did nothing at all but knowing what l know now and seeing how successes in all these other areas of life have literally been eroded by what has happened in the political space, especially in Ghana, that really breaks my heart.
THE SKY ISN'T THE LIMIT; POLITICIANS ARE
This has been a season of lots of graduations. I've seen flashy photos from Harvard to Fuller, and been physically present at inspiring commencements like Ashesi's about three weeks ago. First, I've been excited about all these amazing graduates bustling with energy and vision and drive, some having done some earthshaking capstone projects and all. Yet all these amazing people formally graduated by our best academic establishments and semi-formally by The HuD Group in the last 20 years—and yes, some of us have been though all kinds of fellowships from Aspen and Eisenhower to Tutu—are restricted by what happens in the political space because everything rises and falls on that leadership. Political leadership is the lid over all our collective effectiveness and greatness.
If anyone told these graduands that the sky is the limit, that isn't wholly true; our political leaders are. No I'm not a whiner; I am precisely the opposite of that, which is why I'm a serial entrepreneur. So I believe in creative ways around 'the system' but as the august chairperson of the HuD anniversary launch, Madam Yawa Hanson-Quao, had earlier said at the MLC, "We cannot entrepreneur our way out of bad governance." Political leadership is the lid over all our other attempts at leadership.
Political leadership is the lid over all of our collective effectiveness and greatness in all of our fields of work and spheres of influence. We've got to get up and take the political space seriously and not let anyone who is not a selfless, authentic, transformational leader make their way there! Because then, it doesn't matter how the collective brilliance of all of us is, there would be a lid over the rest of us. A good illustration is the proverbial army of sheep led by a lion versus or an army of lions led by a sheep.
At the end of the day, every sector, and every level of our society needs at least good leaders, even better, great leaders! Otherwise like John Gardener aptly puts it, "The society which scorns excellence in plumbing as a humble activity and tolerates shoddiness in philosophy [or politics for that matter] because it is an exalted activity will have neither good plumbing nor good philosophy: neither its pipes nor its theories will hold water."
Co-founders of Perbi Cubs sandwiching Kanéval partner-influencer, Nana Aba Anamoah, media personality & General Manager of GHOne TV/Starr FM.
This year, the capital city of Ghana where my wife hails from and where I was born has been named by UNESCO as its twenty-third World Book Capital. Accra takes over from Guadalajara, Mexico (2022) and will be handing the baton to Strasbourg, France come April 2024.  Since 'kané' is the Ga word for read—and Ga being the language of the Accra people—Perbi Cubs Library services creatively replaced the near-homophonic 'carni' in 'carnival' with 'kané' and coined the word 'Kanéval' to bring fun to reading, which is otherwise unfortunately perceived widely as a bore and a chore.
As official partners of UNESCO Accra World Book Capital 2023 (AWBC '23), Perbi Cubs will be organizing Kanéval as a fantastic year-long program, a traveling fun fair transitioning from place to place with lots of amusements intertwined with lots of reading. You will find a fuller history of the UNESCO AWBC'23 partnership and details of the year-long fiesta here.
RESCUE FROM KANÉBALS
We are of the conviction that this Kanéval social service campaign needs to involve key influencers from all walks of life, from CEOs to Black Stars players to musicians, to consistently show that reading is fun and leads to success. The campaign will consist of various events in-person and online, including book fairs, storytelling sessions, and community outreach programs. By making reading fun and accessible, we can encourage more people to read and ultimately improve literacy rates in the community.
When we began approaching various influencers to join us on this reading revolution campaign, a massive behavioural change intervention, some of the stories we heard about the generally poor reading attitudes and habits of Ghanaian society were stupefying. We found kindred spirit in Nana Aba Anamoah (photo above), media personality and General Manager of GHOne and Starr FM, who unbeknownst to us had years back initiated a reading campaign known as 'Raising Readers.' She too had involved several influencers, including former Ghanaian president Jerry John Rawlings, to read with the children in a certain deprived area of Accra. Book donations in their thousands to the cause were a shot in the arm.
At some point it was clear parental involvement would bolster this behavioural change campaign. Some parent did accompany their children and wards to the reading sessions. Mostly reluctantly. In spite of these mostly illiterate parents sucking their teeth after only a little while, thinking of all the other more 'productive' ways they could be spending their time, Nana Aba and team pressed on. In fact, at the height of her intervention they had decided that once a week was not enough for the pace and profundity of the transformation they sought so they decided to leave books with the families and replace them when they returned the week after.
All seemed well and good until the following week when some medical doctors on the Raising Readers campaign team who had gone down the road to grab some snacks returned with horror on their faces. When Nana Aba relates this story, she might not be aware but her face betrays the pain of the let-down she felt. The snacks that the team mates purchased in the catchment area had been nicely wrapped in freshly torn out pages of last week's books! Kanébals (do you see what I've done with 'cannibal' and 'kané'?) had dismembered the hitherto living literary friends, ripping them from their saddle-stitched and perfect-bound spines and repurposing the cadavers as food packaging. Ah!
When we related this story to another influencer on our bill, Kafui Dey (photo above), author and Breakfast host on GTV, he told us worse. Sometimes it's pages of even the Bible that are Kanébalized for wrapping food!
WANTED: KANÉVORES IN THE KAPITAL
Perbi Cubs, convinced that readers are leaders and leaders are readers, has from inception sought to raise lion-leaders, hence the referral to our 10,000 young patrons as cubs (the young of lions) rather than the typical 'kids' (the young of goats).
By the end of the year-long Accra World Book Kapital, we seek to have enrolled an army of at least 100,000 cubs who are voracious readers, Kanévores. If carnivorous lions are the king of the jungle, we imagine that Kanévores rule the world.
KALL TO ACTION
According to UNESCO, as of 2021 only 6% of children in classes two and three in public basic schools could read and understand anything they read. Lack of sufficient reading resources and very large class sizes are among the root causes of the problem, but the overarching root cause is that society does not value reading. Reading is seen as a chore, a punishment or even a necessary evil! Yet per credible research, the love for reading is a stronger indicator of a child's success in school and their future career than even their parents' level of education and their socioeconomic status.
Join us in promoting the joy of reading and improving literacy rates in the community, particularly among children in public basic schools, by becoming a partner for Kanéval. Together, we can make a real difference in the lives of our community members and future generations. Let's celebrate and make the most of Accra's selection as UNESCO World Book Capital 2023.
KONCLUSION
Accra has been selected as UNESCO World Book Capital 2023 and Kanéval is a one-year social service campaign organized by Perbi Cubs, as official partners of UNESCO AWBC 2023, to celebrate this achievement and promote the joy of reading and improving literacy rates in the community.
The success of the campaign depends on a coalition of all stakeholders in the book industry, influencers, and strong partnership with the media. Together, through massive Kanévals all year, we can raise Kanévores and end apathy towards the written word that results in Kanébalism and the like. May readers rise and leaders come to light to transform society and impact the world—from Africa to the Rest.
There's no one I enjoy hearing about teams, meetings and workplace dynamics like Patrick Lencioni. Patrick is an American author of books on business management, particularly in relation to team management. He is best known as the author of The Five Dysfunctions of a Team, a popular business fable that explores work team dynamics and offers solutions to help teams perform better. On a recent trip to southern and eastern Africa, his cautionary tale to CEOs published in a book by the title The Motive, was my jolting companion. It brought me back to my senses as CEO of a few enterprises.
Lencioni is Founder and President of The Table Group, a management consulting firm specializing in executive team development and organizational health. As a consultant and keynote speaker, he has worked with senior executives and executive teams in organizations ranging from Fortune 500s and high tech start-ups to universities and non-profits. He also gives talks on leadership, organizational change, teamwork and corporate culture. He is frequently interviewed for national media including features in the Wall Street Journal and USA Today.
SIX TYPES OF WORKING GENIUS
At the annual John Maxwell Live2Lead conference last week–the Ghana site hosted nearly 600 leaders LIVE! with thousands more to benefit through rebroadcasts–we heard from Patrick Lencioni about his groundbreaking new model that provides a deeper understanding into our workplace and team dynamics.
The six types of working geniuses together form the word WIDGET, symbolized by six gears working perfectly synergistically well together. W is the genius of Wonder, I the genius of Invention, D the genius of Discernment, G the genius of Galvanizing, E the genius of Enablement and T the genius of Tenacity. In the near future we shall provide a fuller blog delving into further details about these six geniuses. In the mean time hear Pat the sage, "If you want to be successful and fulfilled in your work, you must tap into your gifts. That can't happen if you don't know what those gifts are."
THINGS DON'T HAVE TO BE THIS WAY
Pat explained how people don't understand their personal areas of working genius, which impacts their ability to identify work opportunities that would be most meaningful to them, as well as disallowing organizations, teams, and families to help individuals tap into their true working genius, resulting in a failure to reach one's true potential. But things don't have to be this way. This tragedy is avoidable, as Pat shared how you can identify your working genius and understanding which one of the six geniuses both you and your teammates are. Contact us, the Live2Lead team, if you and your team would want to test your genius to become all you really could be. There are no dumb or lazy people on the planet or on your team; only geniuses who are yet to find and fire up what makes them tick!