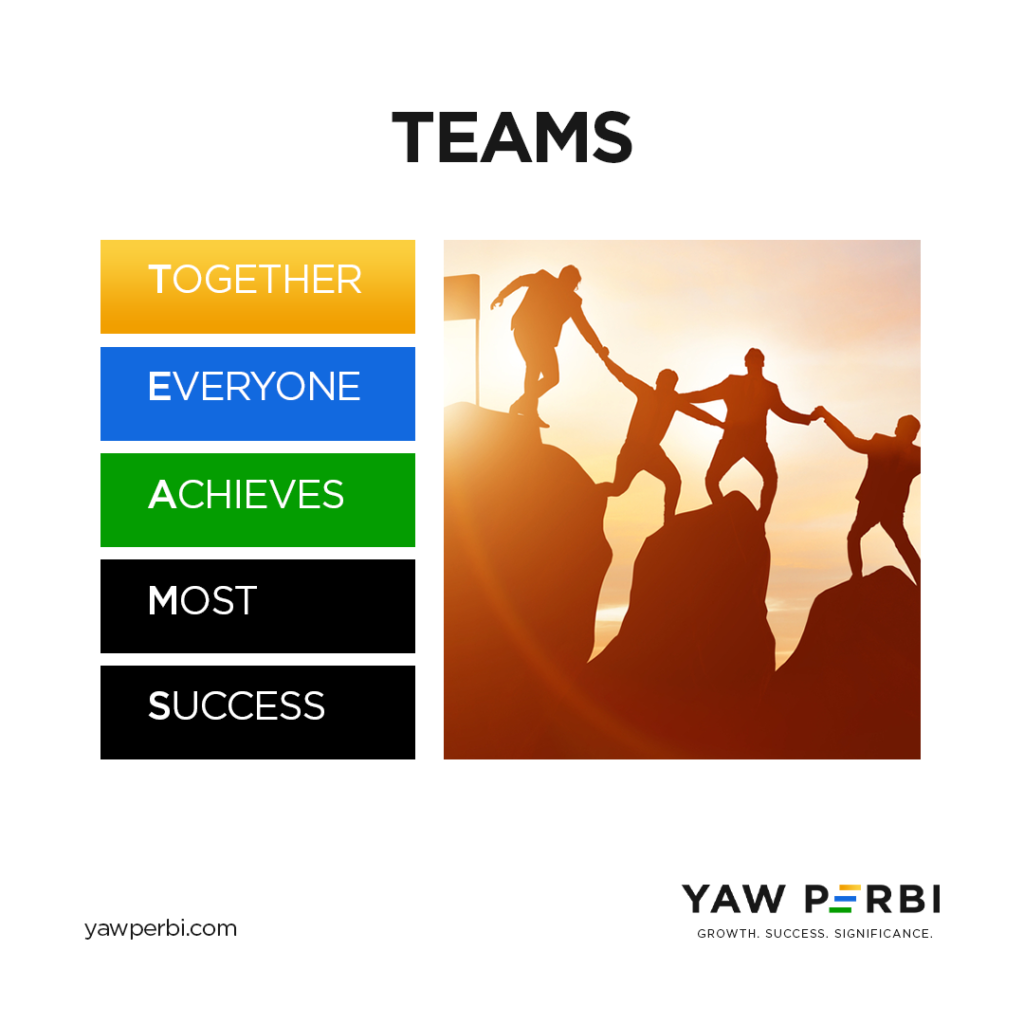 The story is told of an anthropologist who introduced a game to the children of an African tribe. He placed a basket of delicious fruits near a tree trunk and told them: "The first child to reach the tree will get the basket."
When he gave them the start signal, to his astonishment they were walking together, holding hands, until they all reached the tree. They simply shared the fruits and happily ate them! So baffled, with a furrowed brow he asked them, "Why did you do that when any one of you could get the basket only for yourself?"
They answered with glee, and to his amazement, "Ubuntu!"
"How can one of us be happy if all the rest are miserable?"
"Ubuntu" in their civilization means "I am because we are." It is Xhosa from the African continent. The venerable Archbishop Desmond Tutu explains: "Africans have a thing called ubuntu. It is about the essence of being human, it is part of the gift that Africa will give the world. It embraces hospitality, caring about others, being willing to go the extra mile for the sake of another. We believe that a person is a person through other persons, that my humanity is caught up, bound up, inextricably, with yours. When I dehumanize you, I inexorably dehumanize myself. The solitary human being is a contradiction in terms. Therefore you seek to work for the common good because your humanity comes into its own in community, in belonging."
TEAMS THEME LIKE A BROKEN RECORD
Together Everyone Achieves Most Success. The theme of teamwork just won't go away! To those around me, I must've sounded like a broken record over the period. Ah! But broken record will soon take on another important meaning. Read on. It began a couple of weeks ago as I was finishing a write-up for our 4D assessment (image above) at YAW PERBI. The TEAMS portion of the assessment posits that TEAMS should consist of at least one each of a Theorizer, Executor, Analyzer, Manager and Strategist, that idea itself also forming another acronym for TEAMS. No one has all six. Even if they did, they wouldn't be able to function optimally when all are needed simultaneously. Whatever you don't have, the Creator has put in someone next to you in your ecosystem. A network is about nextwork, basically a net of next workers.
This became very apparent to me when over these same couple of weeks I happened to be reading the old jewish book of Nehemiah, the guy in diaspora who returned to Jerusalem to lead a rebuilding campaign. The dominant word in the text about the rebuilding is "next." An array of people, from priests to perfume-makers, male and female, built the next session of the broken walls of the city, some right in front of their house, until walls that had been down for over a century were rebuilt in only fifty-two days! Indeed, teamwork makes the dream work!
Former U.S. President Lyndon Johnson put it another way, "There are no problems we cannot solve together, and very few that we can solve by ourselves." Going east, the Chinese have a proverb too that says, "Behind an able man there are always other able men."
BETTER TOGETHER, FOR SURE!
Again over these same couple of weeks, my mother-in-law forwarded a video to me, featuring a passionate speaker who was emphasizing the power of building together. Incidentally, I happened to know the man–pastor Forbes of The Gambia, whose church in Banjul I had the privilege of speaking at about a decade ago. I quickly sent him word that he was trending. And he was. Forbes made a terrific point about how the fastest man in the world remains Usain Bolt of Jamaica, with a 2009 world record he set at 9.58 seconds remaining unbroken by any other human being for a dozen years now. Yet the 4 x 100m relay record by Bolt and three others stands at 36.84s, meaning an average of 9.21 seconds per runner. Get that? That's a whole 37 seconds better than the best man in the world! That's the power of team work, of synergy. All of us together, are better than any one of us, even the best of us, any day!
Take the game of soccer too. It doesn't matter what a great goalkeeper one is, no one wins the game without good strikers who score goals (not to talk of the rest the complimentary forwards and midfielders). In the same way, one may be the best goalscorer in the world but without a strong defence, including goalkeeping, you will be outscored and lose the game. Great leadership assembles a great team of diverse people in gender, ethnicity, age etc. but especially in thinking styles and task orientation.
Every team member has a place where they add the most value. You don't want to put the best goalscorer as a goalkeeper or vice-versa. You've got to know yourself and where you have most value, in order to know where you lack and who to bring on board. Likewise, everyone else on the team should know their niche. In The 17 Indisputable Laws of Teamwork, John Maxwell puts this essential need to have the right people in the right places well on TEAMS as follows:
The Wrong Person in the Wrong place = Regression
The Wrong Person in the Right Place = Frustration
The Right Person in the Wrong Place = Confusion
The Right Person in the Right Place = Progression
The Right People in the Right Places = Multiplication
IN THE END…
All of us together are better than the best of us, any day, every time! Even better than a Usain Bolt! Ubuntu! I am because we are. What is the Theorist without an Executor? What would an Analyzer do without a Manager or Strategist? TEAMS is the way to go. The children of Africa know it. Do we? Together Everyone Achieves Most Success!
It's amazing how much most people know about subjects in our world, literally from Archaeology to Zoology, but very little or no ME-logy! In my book, Cutting a Straight Path: Leading with Self-Awareness, I ask these poignant questions:
How can you live with yourself without knowing who you are?
How can you be true to what you know little or nothing about: yourself?
How can you succeed in life, self-actualize, without first becoming self-aware?
How can you authentically lead others without first learning to know yourself?
Have you ever felt frustrated why others are hesitant to follow your lead?
"Maybe it's time to check yourself as a person and as a leader," is my conclusion. Yes, it's about time! Indeed, the Chinese have a powerful saying, "Before preparing to improve the world, first look around your own home three times." Forget about authentic living, let alone authentic leadership, without self-awareness! So welcome to home base. Self-awareness is the starting place of all true and lasting success.
SELF-DISCOVERY THROUGH THE DISC
Self-awareness comes basically by introspection (by ourselves) and feedback (by others). Both however, are greatly enhanced by assessment tools, just like magnifying glasses help us see tiny objects and the binoculars enables us to view distant things closely and clearly. I have found the DISC as an amazing personal assessment tool that is incisive and powerful in the quest for self-awareness. Since 1972 it has been used by over 50 million people to increase self-awareness, stimulate and guide growth and thus increase chances at personal success. It is used to engender teamwork, communication and productivity in the workplace. The DISC has saved many a marriage, including mine!
DISC assessments are used in thousands of organizations around the world, from multilaterals and multinationals to government agencies and Fortune 500 companies, nonprofits and small businesses. Recently, we were privileged to serve the Centre for Disease Control Foundation in Atlanta, USA with nearly 150 of these assessments as they train medical leaders in about 30 nations of the world.
SO WHAT EXACTLY IS DISC?
DISC is an acronym that stands for the four main personality profiles described in the model: (D)ominant, (I)nfluencing, (S)teady and (C)ompliant.
People with D personalities tend to be confident and place an emphasis on accomplishing bottom-line results.
People with i personalities tend to be more open and place an emphasis on relationships and influencing or persuading others.
People with S personalities tend to be dependable and place the emphasis on cooperation and sincerity.
People with C personalities tend to place the emphasis on quality, accuracy, expertise, and competency.
The DISC system we use at YAW PERBI in partnership with People Keys generates 41 personality blends from these basic four, just like many colours of the world are generated through the three primary colours. There's one I used to coach international students in Canada that was limited to 28 personality blends. What we use now is like the difference between a regular car and a four-wheel drive. As they like to say at People Keys, "people are different, true, but they are predictably different."
CONVICTION, VISION & MISSION
Our conviction at YAW PERBI is that since every true and lasting success begins with self-awareness, then everyone must have easy and affordable access to self-DISCovery! ACCESS FOR SUCCESS, please! Everyone has a right to self-awareness. We need a DISC Revolution!
Our vision is to see a world of awareness through every individual's self-DISCovery. We are on a mission to democratize the DISC personality/behavioral assessment until no one is left in the dark. We want to recalibrate all leadership development to begin with self-awareness at the core through the Perbi Perspective DISC is a great start.
CHIEF CORNERSTONE FOR THE CHIEF-LEVEL LEADER
When you read my article on how I build leaders differently now (compared to 10-15 years ago), you will understand my seriousness about this issue of recalibrating all leadership development to begin with self-awareness. People have big, fat leadership books and terabytes of leadership materials and yet have next to zero knowledge of themselves. What sense is there in that? I was telling a certain Christian leader the other day that he can forget the list of a dozen books people typically ask me to recommend for leadership training and development. The only two books his emerging leaders need to learn almost everything they need to know about leadership are a self-awareness printout of their DISC assessment and the Scriptures. Every other book is garnishing.
In all the major success paradigms, praxes and paths—from Emotional Intelligence to Authentic Leadership—self-awareness is first base, the chief cornerstone. I increasingly get alarmed when I encounter C-level executives, both in the public and private sector, who have never taken a personality assessment like the DISC!
STRATEGY AND HOPE
Some say hope is not a strategy but I beg to differ. (I'll leave that argument for another day, another blog). I have hope that together we can strategically exponentially multiply impact through an army of Accredited DISC Coaches and Certified Behavioural Consultants while significantly creating thriving businesses and income for all! Just like our governments wish to get everyone vaccinated, we at YAW PERBI desire to get everyone DISCed! The former may be controversial to some, but you had better not second guess the latter. Everyone has a right to self-awareness to grow and succeed. Would-be authentic leaders really have no choice in this primary matter. We need a DISC Revolution!
P.S.
If you want to join the DISC Revolution by becoming an Accredited DISC Coach or a Certified Behavioral Consultant click here. Anyone who wants to get DISCed personally may start here.