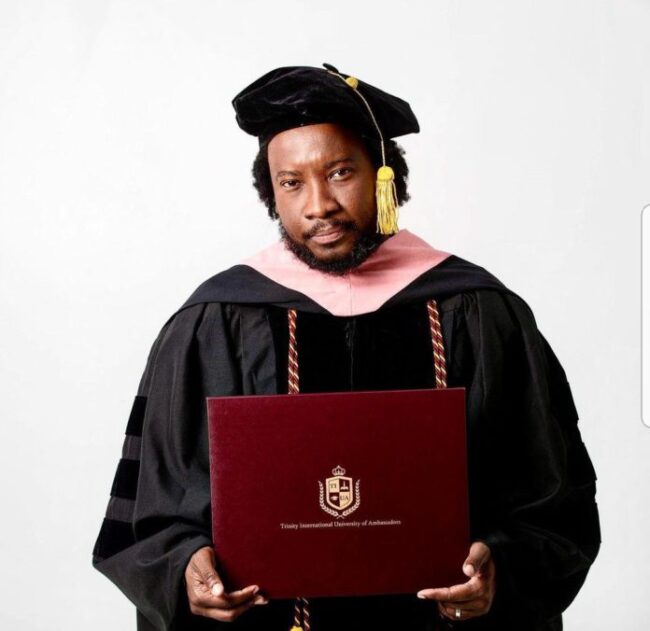 Recently I received an email (partly screenshot above) announcing my nomination to receive an honorary doctorate degree. It is is possible that I would have felt more flattered and been more tempted to go after this fake degree from these fictitious institutions had I not already been a "Dr." (medical). Coming from a family in which my grandfather was an emeritus professor and where my mother and father-in-law are PhDs in history and economics respectively, these titles don't exactly faze us. Yet those who offer them know they are toying with very powerful human emotions, motivations and identity issues at the core of our being and have made a good business of it. As my best friend said when I forwarded the said email to him, "this has nothing to do with you; it has everything to do with business."
Some however, including many Christian leaders, have taken the bait and gotten decorated with very dubious degrees and titles. Recently, there was a huge brouhaha over a popular Ghanaian musician based in London who was alleged to have amassed three degrees, including a PhD, within four months! Perhaps if he had even shut up, none of this would've become an issue of investigation and castigation setting social media abuzz but he was flaunting it and 'praising God' for the fake feat. The desire to flaunt it itself reveals the very identity and emotional challenges he might have that perhaps led to him to go for those inauthentic accolades in the first place.
The above picture of Sonnie, whose giftedness is unquestionable but his academic credentials are, was uploaded by himself on social media touting his feat. I have met Sonnie. He is a fine young man and anointed. But I can also tell you he is far from perfect; just like you and me. Speaking of Sonnie and musicology, incidentally, my grandfather was a celebrated ethnomusicologist. His work earned him many accolades including several honorary doctorates but he never used the title "Dr." because although he had done enough original research work to deserve ten doctorates he never really formally pursued a PhD per se. Interestingly, he shot straight from 'mister' to 'professor' and was 'emeritus professor' for the last three decades or so of his life.
This degree brouhaha touches on at least three issues: identity, purpose and authenticity.
IDENTITY
There was once a programme organized by a friend of mine. The MC got on stage and introduced a certain pastor to come up and offer a prayer. He inadvertently introduced him, with no malice, as Mr. XYZ. XYZ comes up, grabs the mic and makes a correction, "I'm not Mister, I'm Pastor." That wasn't all; it gets worse. Later he clears his throat and amends his correction saying something like, "In fact, I'm not Pastor, I am Reverend." Ahem. Wow! What a shock, what a shame.
But lest I come across as holier than thou, remember I told you that the people offering fake degrees know exactly what they are massaging in us: the ego. I can tell you that as a medical doctor myself there are many times when people address me in speech or in writing as 'Mr.' and I have a natural gut reaction to get offended, said in my head something like "do you know who you're talking to?" and yearned to correct them. There's a part of me that even justifies it thus: "mehn, but you earned it." That, my friend, is not the authentic self.
We need not, and indeed should not, root our identity in external things like what we wear, how much we earn, what degrees or title(s) we have acquired. Anything that man can give you, man can take away. Let's not root our identity in any such thing. And you would think that supposed men and women of God would know better and root their identity in nothing less than Christ himself.
PURPOSE
You may have 'more degrees than a thermometer' and still not accomplish your God-given purpose. There are some without degrees at all and yet have made much more impact in the world than those with many letters behind their names. Your purpose in life determines the vehicles and tools you need to use. It's strange to make the acquisition of vehicles and tools our primary objective when one hasn't first sat down to evaluate if that is what they need to get done the job they came on earth to accomplish. It's about dreams, not diplomas and degrees.
Did you read about the recent brouhaha over the apparent insistence of Jill Biden, wife of the current U.S. president, to be called "Dr" ? It's really been going on for at least a decade now: "Hi, I'm Jill. Jill Biden. But please, call me Dr. Biden." The December 2020 op-ed by Joseph Epstein in the Wall Street Journal implored Jill Biden to "think about dropping the honorific, which feels fraudulent, even comic." Personally, I think the essence of what Epstein was trying to say became lost in what became an embroilment in sexism. The real question should be: does being 'Dr.' make Jill a better educator (that she's been for decades) or not? Everything else is secondary; even tertiary.
AUTHENTICITY
This degree saga leaves a lot to be desired when it comes to authentic leadership. It speaks to the core of authenticity. Authentic leaders have:
nothing to prove–a matter of humility (not try to project self worth)
nothing to hide–a question of integrity (no playing of games but totally transparent)
nothing to lose–a matter of simplicity (not strive for social image or popularity).
As you might have noticed, humility, integrity and simplicity as an acronym spell HIS. This is particularly instructive to Christian leaders. Those of us at the Third Lausanne Congress on world Evangelization in Cape Town in 2010 were passionately exhorted by theologian Chris Wright to be God's saints, Christ's people, HIS people of humility, integrity and simplicity.
NOT SO WITH YOU
Again, especially for Christian leaders, the primary power base of an authentic (wo)man of God is spiritual power—not positional or personal power. Others may go that route but Jesus was very clear to his followers who would be leaders: "not so with you." In May 2020, I wrote quite extensively on that here. We need to lead different. This issue just won't go away until Christians really chose to be H.I.S. people.
CONCLUSION
In light of the recent brouhaha about fake degrees, Friends, BE WARNED. Don't allow your ego to be stroked and stoked, making your false self acquiesce to receiving fake degrees from fictitious institutions. If you want a degree, go to school and study for one! In any case, one doesn't necessarily need a degree to succeed in life! Hopefully your going for a diploma or degree would only be because you have observed It will a good vehicle or tool towards your dream. Again, the thing is: You can have 'more degrees than a thermometer' and still not fulfill your God-given purpose in life.
I have a mentor who likes to say, "the thing about titles is that if you're good you don't need them; if you're not they won't help you." Heaven help us!
As Jesus and his disciples were on their way, he came to a village where a woman named Martha opened her home to him. She had a sister called Mary, who sat at the Lord's feet listening to what he said. But Martha was distracted by all the preparations that had to be made. She came to him and asked, "Lord, don't you care that my sister has left me to do the work by myself? Tell her to help me!"
"Martha, Martha," the Lord answered, "you are worried and upset about many things, but few things are needed—or indeed only one. Mary has chosen what is better, and it will not be taken away from her." (Luke 10:38-42)
VERTICAL AND HORIZONTAL RELATIONSHIP DYNAMICS
Of course the usual point drawn from the Mary and Martha anecdote is importance of "slowing down for loving union with Jesus," "being with Jesus rather than doing for Jesus" et. And that is all true. In fact, I have a mentor who suspects that even "if Martha were to sit at the feet of Jesus, she would still be distracted by everything on her mind. Her inner person is touchy, irritable, and anxious" (Peter Scazzero). Granted, this account is about our vertical relationship with God (spirituality) but what about the possibility that these two sisters were wired differently in relating to people (horizontally)?
MARY IS A PEOPLE PERSON; MARTHA IS A PROJECT PERSON
I just finished re-reading the story of Mary and Martha and couldn't help noticing that these sisters of Lazarus must've had very different personalities. Before we assume Mary was spiritual just because she sat at the feet of Jesus listening to him or that Martha was unspiritual just because she was running around choring and checklisting, think again: both were friends of Jesus. They had invited Jesus into their home (if you like, even into their hearts) to sup with them. They were both spiritually connected, so-to-speak.
Martha most likely was a high D or high C, highly task-oriented; while Mary in all probability was a high I or high S, highly people-oriented. Personally, knowing that people are wired differently from me, personality-wise, has 'cut my sinning in half,' in the sense that many things I've wrongly judged in people as a moral, ethical or even spiritual issue have now proven to be just different, not a matter of right or wrong.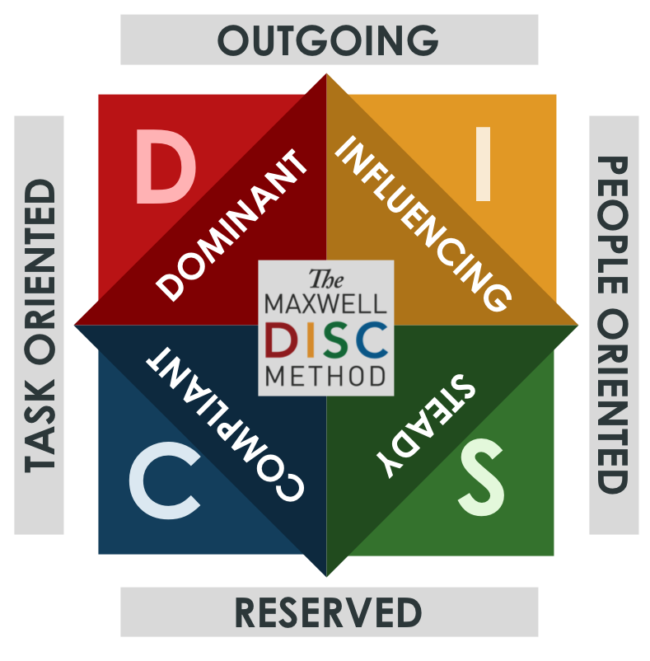 My mentor asked, "in what way(s) did your to-do list, distractibility, or perfectionism keep you from loving and enjoying Jesus or the people around you?" That is is when I noticed I hardly keep in mind that time for tasks often means no time for people (or Jesus for that matter). "Opportunity cost,' that's what the economists like my dear wife call it. I'm finding that I need to set fixed goals and fixed hours for tasks and whack them like Martha, so I'm also able to make quality time for people with the rest of my time (not necessarily 'surplus' time), to be fully present with Jesus and with people, like Mary.
In fact, often über project-oriented people have to set making time for relationships as a task in order to make it happen. Meanwhile someone needs to tell people-oriented people to also get some work done!
DISCOVER YOUR DISC
Scottish Olympic medalist Eric Liddell said, "I believe God made me for a purpose, but he also made me fast. And when I run I feel His pleasure." People-oriented and project-oriented folks can both bring God pleasure; they both can impact people for good. Both their being and their doing can please God and bless people.
Everyone reading this has done the DISC personality assessment, I hope. If you haven't, may I suggest it's one of the first steps in knowing yourself better so you can have healthier relationships and deeper fulfillment leading a life of significance–and all the while just being yourself. If you need to take it, drop me a note ASAP (yawperbi@gmail.com).