Over the last week, somehow this notion of needing to work harder on yourself than you do on your job has come up with two or three different coaching clients. For the CEO of a crucial agro business firm in West Africa, the financial services entrepreneur in Canada and the PhD-wielding academic on the east coast of the United States, the three reasons I'm about to share held true. It is true for you too.
For the record, I work hard and believe in hard work. I also work smart and absolutely promote the idea of brain over brawn anyway. Over a decade ago I came up with the phrase, "brain power pays; muscle power pains." I subscribe to the Pauline exhortation that "whatever you do, work at it with all your heart, as working for the Lord and not for man." So by all means, work hard and smart on your job, but work even harder and smarter on yourself.
Here are three reasons why:
1. WHO YOU ARE IS MORE IMPORTANT THAN WHAT YOU DO
No matter how hard or smart you work, the instrument for the doing the do is you. If the input into you doesn't match or exceed the output, that will soon be your undoing. Let me put it in a way one of my staff in British Columbia said it to me a few years ago: "If your output exceeds your input, then your upkeep will be your downfall." Classic! Not only will you soon not be effective and efficient when your self input is less than your job output, it is unsustainable and you might end up becoming irrelevant. And sometimes, irrelevant not just in terms of knowledge and skills for a context that has progressed because you're not healthy or even physically alive anymore–you killed the goose that lays the golden eggs!
Consider these sagacious words of educator Palmer Parker:
"When I give something I do not possess, I give a false and dangerous gift, a gift that looks like love but is, in reality, loveless—a gift given more from my need to prove myself than from the other's need to be cared for…. One sign that I am violating my own nature in the name of nobility is a condition called burnout. Though usually regarded as the result of trying to give too much, burnout in my experience results from trying to give what I do not possess—the ultimate in giving too little! Burnout is a state of emptiness, to be sure, but it does not result from giving all I have; it merely reveals the nothingness from which I was trying to give in the first place."
Remember, who we are is more important that what you do, because we do whatever we do out of who we are: our identity, character, values.
2. ONE MEANS A LIVING, THE OTHER MEANS A FORTUNE
Classic motivational speaker of blessed memory, Jim Rohn, poignantly put this in a way like nobody else has: "Learn to work harder on yourself than you do on your job. If you work hard on your job you can make a living, but if you work hard on yourself you'll make a fortune." This statement, I believe, is a variation of timely advice Jim himself received from his mentor J. Earl Schoaf. Jim had heard him give the reason for why the job only pays the bills but the latter ends in billions: work harder on yourself than you do on your job; your income is directly related to your philosophy, not the economy; and for things to change, you must change.
From a one-year college drop out living from pay check to pay check as a stock clerk at Sears, this advice catalyzed a five-year mentorship of Rohn by Shoaff, encouraging him to develop himself and pursue his dream of a better life such that by age thirty one, Rohn was a millionaire! It was a really sad day when this motivator of motivators like Anthony Robbins, Less Brown, Brian Tracy and Denis Waitley, passed away in December 2009.
Friend, work harder on yourself–from your paradigms through your attitudes to your skills. It's the software that you carry and apply to a variety of endeavours, not only your job, that will unlock abundant wealth and well-being.
3. JOBS COME AND GO BUT YOU'LL STILL BE HERE
Sometimes people leave jobs; other times jobs leave people.  In the kind of post-pandemic economies we have now, more jobs leave people than people leave jobs. Certain whole industries have been wiped out, for crying out loud! I've marvelled at how many pilots have been literally grounded and have had to find some other kind of livelihood. What if all you did was work hard on your job and never grew your other interests, talents and skills or even never networked beyond the 'boys club' in your profession?
When many years ago I decided to take the path of the risk of entrepreneurship rather than the 'security' of a regular paid job, some people who thought I was crazy later found out they had been crazy to think 'owning a job' was better than owning a business when in spite of their qualifications, loyalties and skills their jobs were cut. Former Microsoft COO, Kevin Turner, said it best: "The only job security we have is our individual commitment to personal development." Your job today may not be there tomorrow–in fact your entire industry might not be there–but you will. Work harder on yourself than you do on your job forwhen tomorrow comes, your preparation will meet opportunity. That's what they call success.
QUICK PRESCRIPTION
Do the following to ensure you are working hard on yourself for your personal growth and development: set aside a time for YOU, a ME time, everyday. Mine is 5-6am everyday during which I read my personal mission statement, review my goals, read for at least 15 minutes and express my thoughts and feelings in writing.
For all the coachees I mentioned at the beginning of this blog, each was working super hard at their jobs. It is my job to ensure that while they do that, they strive towards working even harder on themselves than they do on their jobs. There's no great future for anyone without that.
There is no talk of Black History without faith, especially the Christian faith. PBS recently released a fascinating Henry Louis Gates Jr. documentary on the Black Church. What some dubious people tried to oppress and suppress black people with became the very thing that liberated us and is now giving us a global leading edge.
Africa is the most Christian continent in the world today. The year 2018 was the first in history where there were more Christians in Africa than on any other continent in the entire world! (Johnson 2018) THIS IS A BIG DEAL!—this is a one-thousand year record held by Europe that has been broken by Africa in our lifetime. That makes me super excited about Black History Month this year because history is being made right now. As you read this, a number of continental Africans and those of African descent in the diaspora have synergized to birth a new network known as Send Africa to promote further faith formation among 'unreached people groups' around the world.
At the formal launch of this Send Africa Network online on February 24-25 during this 2021 Black History Month, my Kenyan friend, Sam Ngugi, and I will be launching a ground-breaking book entitled Africa to the Rest to celebrate this huge feat of Africa becoming a leading global force of faith to the rest of the world. This book is to "celebrate this momentous occasion in world history that has been inadequately highlighted by mainstream missions and missions. It traces some of God's goodness to Africa in the Bible and throughout history until now to make clear that Africa and Africans have been central to God's missional purposes; not an afterthought." You may register for the Send Africa Summit here.
CAPTURED & DISTORTED HISTORY
Of course Africa features in the Bible from start to finish. There were actually two black guys (among the five) that played hands on the apostle Paul and commissioned him on his missionary journeys (Acts 13). Africa is the cradle of monasteries and ecumenicsm. The term Trinity came from Tertullian the Tunisian. St. Augustine was from Algeria, and not a European as we were made to believe growing up in Africa.
As Sam and I state in our book, "People consider Christianity as the white man's religion to oppress the African due to the last 500 years of Euro-American missionary activity mixed with colonialism without realizing that the first 500 years A.D., Africa was so synonymous with Christianity that one of the most common terms for Christians in Arabic sources is afariqa–indicating a significant degree to which "Christian" and "African" were synonymous concepts (Merrills 2004, 303)." 
In fact, the subtitle of our book is "from mission field to mission force (again)" because Africa(ns) as a mission force first impacted Europe with the Gospel! That notion that Africa first evangelized Europe is the essence of Thomas Oden's book titled How Africa Shaped the European Mind.  "My core hypothesis," Oden himself says, "is that much intellectual history flowed south to north: from Mumidia to Sicily to France and Italy. It flowed from the Nile to the Euphrates and the Danube. It flowed from Pelusium to Gaza to Cappadocia. …There is ample evidence available that the seeds of African orthodoxy have been lifted by high winds to distant northern climes. Only much later have they returned to Africa in a Western guise."
Only a century ago, at a world missionary conference in Edinburgh, not only was there no continental African there as a delegate, we were described as "heathen" in need of being saved. Today there are more Anglicans in Kenya than in England. At the time, the continent had 9 million Christians while Europe was home to 406 million. Today, Africa has over 630 million Christians, a clear 30 million more than Latin America in second place with Europe in third place with 571 million Christians. And it's not a nine-day wonder, for by 2050 (Deo volente), there will likely be more Christians in Africa (1.25 billion) than in the next two continents combined! (Johnson 2018)
UNDENIABLE PRESENT
It is good to know that Africa leads the world in something. There are churches that began in Africa and are in 198 countries now. The largest congregations in Europe are pastored by Africans, like Sunday Adelaja's in Kieve, Ukraine. The most multinational congregation in the world—108 nationalities—was founded by and pastored by my good friend and mentor in Vancouver, Canada, Dr. Sam Owusu. I could give you a list of about 10 global mission organizations–including the Navigators, SIM, Langham Partners and SIL–currently led by Africans!
Why is all this important? For many reasons but three will suffice for now. First, black people have been part and parcel, even central, to the purpose and mission of God unlike others have tried to make us think. We are equally made in the image and likeness of God as anyone else. We ought to rejoice and while not bragging about ourselves, 'make our boast in the LORD.'
Secondly, the Christian faith is authentically African.  As one scholar put it, Christianity is a beggar looking for clothes in whatever culture it goes into. The fact that it was captured by Europeans and Americans and tailored as a tool of oppression of blacks in slavery, colonialism etc. is simply not right (not the authentic Christian faith) and doesn't make the faith the preserve of the white man either.
Finally, the business world and other sectors in Africa that are trying to make a mark on the world stage could learn a thing or two from the African Church that leads the world in faith today, hands down.
THE FUTURE HAS COME
I come from a long and rich family history of black (hi)story tellers. My grandfather was an emeritus professor of ethnomusicology and my mother is a professor of history with a specialization in the slave trade. I feel privileged to take my turn to tell stories of African leadership, and in this particular case, leadership in faith, church and missiology.
The assassinated Congolese nationalist leader, luminary and first Prime Minister of the Democratic Republic of Congo, Patrice Lumumba, must be smiling in his grave that the day he prophesied is here: "The day will come when history will speak. But it will not be the history which will be taught in Brussels, Paris, Washington or the United Nations… Africa will write its own history and in both north and south it will be a history of glory and dignity."  The day has come!
For those of no faith and saying to themselves "who cares if Africa is the most Christian continent?" because we're yet to see it tell on our socioeconomic indicators or the millennium development goals, just you wait. Works soon follow faith. Unless it's not true faith; because faith without works is dead.
References
Johnson, Todd M., Gina A. Zurlo, Albert W. Hickman, and Peter F. Crossing. "Christianity 2018: More African Christians and Counting Martyrs." International Bulletin of Mission Research 42, no. 1 (January 2018): 20. doi:10.1177/2396939317739833.
Merrills, A. (Ed.). (2004). Vandals, Romans and Berbers: New Perspectives on Late Antique North Africa (1st ed.). Routledge, 303. https://doi.org/10.4324/9781315235127
Oden, Thomas. 2007. How Africa Shaped the European Mind, Downers Grove: InterVarsity Press, p.71.
Perbi, Yaw & Sam Ngugi. 2021. Africa to the Rest: from mission field to mission force (again). Forthcoming. Xulon Press.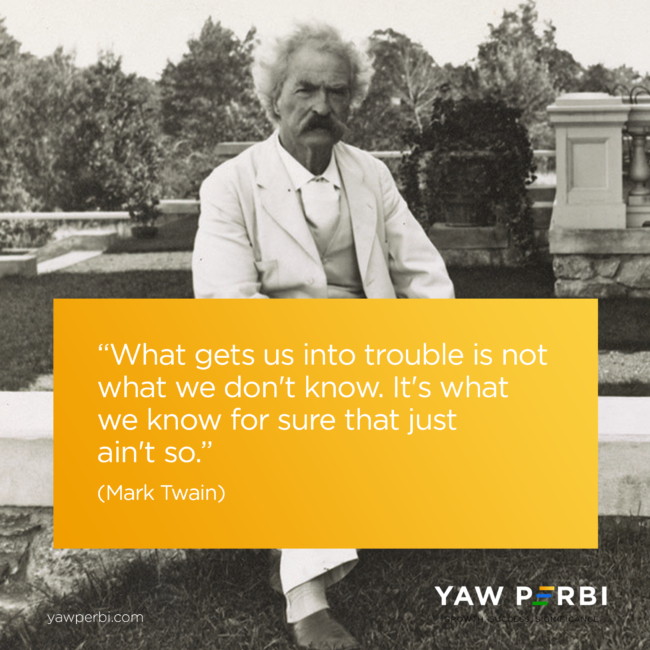 I have wanted to talk about this for months–how to prevent unnecessary hurt from unmet expectations–but last week an incident happened with one of my associates that really catalyzed me to share this urgently. So let's talk about unmet expectations.
Whether it's between spouses, parent and child, boss and workers or even among co-workers, family folk and church members, this is quite a common occurrence. This is particularly so African, Chinese, Japanese and Korean cultures that employ indirect communication.  If you're like me, you've probably been hurt before by unmet expectations. In fact, sometimes we don't even realize we had an expectation until it was not met!
Mark Twain once said, "What gets us into trouble is not what we don't know. It's what we know for sure that just ain't so."  We tend to have expectations that are unconscious, unrealistic,  unspoken and unagreed upon. Let me share how you can flip these four things around and protect your heart against heartbreaks from unmet expectations. I owe this life-saving lesson from my New Yorkan mentors, Pete and Geri Scazzero.s
THE MILLION DOLLAR QUESTION
How do you know your expectations are valid or not? As hard-to-take as this may seem, when the expectation is unconscious  it is invalid.  In fact, if even we don't even know we have them until we are disappointed how on earth is the other person supposed to know and meet it? When it is unrealistic it is invalid as well. Even if it is reasonable and we are conscious of it but it has not been articulated, it is still invalid. The common lame excuse we tend to give is, "Oh, but they should know?!"
In the event that our expectations meet all the above three criteria–conscious, realistic, spoken–but the other party has not agreed to them, they are still invalid. While this may seem very Western, I have learnt as an African-Canadian that it is never wise to assume agreement!
Of course, important caveats include marriage (where the vows already spoken have created certain clear expectations like fidelity), parent-child relationships (expectation of chores) and employer-employee dynamics where expectations have been clearly laid out in contracts and policy and supposedly read and accented to. Even in these relationships with broad-stroke expectations, situations occur that demand clarifying expectations further.
WHAT TO DO TO FORESTALL HEARTBREAKS
To prevent heartbreaks from unmet expectations, ensure your expectations are:
(1) Conscious: I am aware of my expectation.
(2) Realistic: I have evidence to support that the expectation is reasonable in the sense that the other is able and willing.
(3) Spoken: I have expressed the expectation clearly.
(4) Agreed Upon: The other person has agreed to the expectation by saying "yes."
I would highly recommend you take the Scazzero's Emotionally Healthy Relationships course for a full meal and good skill-building in this area they call Stop Mind Reading and Clarifying Expectations.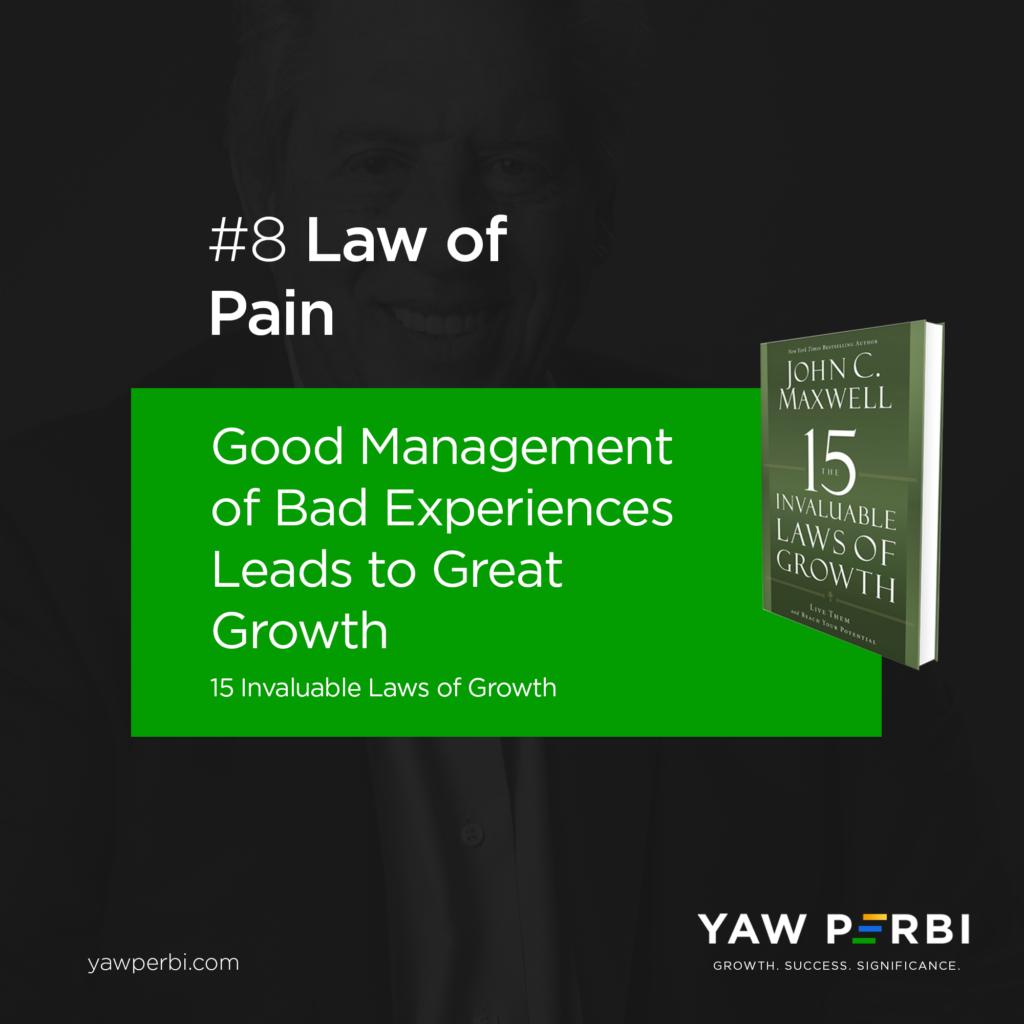 WHAT TO DO WHEN HURT HAPPENS
In the event that hurt still happens from unmet expectations, valid or not, REFRAMING the painful experience is everything. As John Maxwell renders it in the Law of Pain, "good management of bad experiences can lead to growth." Reframe the painful experience as follows (modified from a Maxwell process):
a) Define the problem –> The painful situation I need to process right now is…
b) Understand your emotion –> My feelings about this are…
c) Articulate the lesson –> My lessons in is this are…
d) Identify a desired change –> The changes I want to effect are…
e) Brainstorm numerous pathways –> The ways out are…
f) Receive others' input –> What I'm learning from others is…
g) Implement a course of action –> My course of action is 1. Embrace the reality of pain 2. Learn my lesson(s) 3. Share my lessons 4. Change a. ______ b. ______ c. ______  d. _____.
CONCLUSION
You know what they say happens when you assume: you make an ass of u and me. An expectation is only valid when it is mutually agreed upon. Let's do less heart damage by providing and demanding clear expectations of others. Let's ensure in all our relationships that our expectations are conscious, realistic, articulated and agreed upon. And when things fall through the cracks and we feel the sting of pain from unmet expectations, let's reframe the experience well so we can still grow and flourish.