What if we took our families as seriously as we take our corporate work, beginning with crafting solid family vision and mission statements and clearly outlining our family values?
When I was still in my late teens and learnt about mission statements from The 7 Habits of Highly Effective People I was über excited! I was an eager beaver, wanting to learn more and actually crafting one for myself. In addition, I was eager to teach everybody who would listen to craft one too. In fact, a large part of why and how The HuD Group was born was because we wanted to inspire and empower young people to discover their God-given purpose and reach their full potential using tools like personal mission statements. Then I tried to convince my parents to work with my siblings and me to create one for our family. Let's just say, I did not succeed.
Most of us work in places that have vision and mission statements and a slew of values. Those of us who are C-level leaders are responsible for recasting vision constantly, clearly and creatively as well as rehashing our mission and values. I would surmise the majority of us take this sacred duty of leadership very seriously. How come we don't do same for our families? Most smart, skillful and dedicated professionals I know have no family vision and mission statements and haven't bothered to distill the family's values, let alone clearly state these and have them written down.
Yet as already asserted in a previous article, vision, mission and values are the DNA of both individuals and organizations as they are really of life-giving, life-forming and life-replicating essence. So it is with families. While every family has its physical DNA passed down from ancestors, how about the important metaphysical DNA represented by our families' vision, mission and values?
Today, I wish to share with you my own nuclear family's vision and mission statement for our home. We have a broader vision and mission that encompass not only our home but also all the corporate and charity ventures we're involved in but what I'm sharing here is specific to our home.
VISION FOR THE PERBI HOME
An INCUBATOR for hatching godly, effectual leaders for the mission of God.
MISSION STATEMENT OF THE PERBI HOME
Ours is a family in which God delights because God is the centre of all activities in this household. Every ordinary activity becomes worship by practising God's presence.
We are first and foremost Christians thus sharing fellowship and building each other up by lifestyle is a matter of course, and if necessary doing so with words. The flame on our Family Altar shall always burn brightly.
In our household, Jesus Christ is the standard of behaviour. This is the Potter's house, where God by His Spirit moulds members and guests alike to conform to the image of Christ in attitude, thought, word and deed. The Word of God is our family constitution.
Ours is a neat, comfortable, cosy, Spirit-filled home; an inspiring environment which is as stimulating as is peaceful, is grace-filled, God-honouring, purpose-driven, paradigm-shifting, principle-centred, and character-based. Any entertainment must be wholesome, building & beneficial.
The Perbis' is a home full of warm, smiling, serviceable and humble people who will at all times be of use to each other and to all of God's people in a holistic manner.
This is a missionary family—living missionally, raising, receiving, sending and supporting carriers of the gospel of Jesus Christ. 
That it will always be said of our home, our legacy, all to the glory of God: the standard of a Christian marriage, the epitome of a true Christian family.
CONCLUDING ENCOURAGEMENT
At the start of each week, as we round up our weekly sabbath, we remind ourselves of our vision and mission statement. Even our three-year old knows what our vision is. She can shout "incubator!" Not only are our values embedded in our family mission statement, the children find the English version of their names in there as well.
This is holy work and I insist that every coaching client of mine works with their spouse and children (if they're grown enough to contribute) to work on crafting solid family vision and mission statements and clearly outlining their family values. And of course, a key thing is to ensure that their personal and family values align with who they're working for/with in the corporate world. No DNA, no life. Good DNA, good life. Bad DNA, bad news. Let's take our families as seriously, nay, even more seriously than we do our workplaces. After all, companies come and go but family is forever.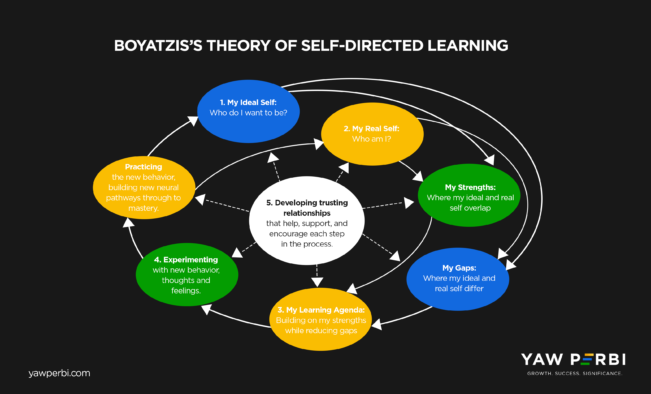 "Your journey to leadership is likely to take many unexpected turns. Life is full of challenging situations, including ethical dilemmas, midcourse career changes or burnout, seemingly intractable interpersonal challenges, marriage and family issues, failures, and loneliness. At times, you may feel you are losing your way or have gotten off course from your True North. Getting back on track alone is very difficult, perhaps even impossible" (Bill George). That's why you need a coach.
If you've followed me on social media over the last few days you should've noticed a couple of posts about my excitement to train a group of Medical Superintendents in Ghana on Emotional Intelligence (EQ). Of course everybody needs (EQ) but one reason doctors in particular do is that they tend to think because they are smart and got into med school they would be successful in life and leadership. To our rude shock (and I say 'our' because I am a doctor myself), after a certain threshold, intelligence (IQ) doesn't matter anymore, and what gives the winning edge to succeed is all EQ.
NO ONE CAN HELP THEMSELVES WITHOUT BEING HELPED
After an hour of training on what EQ is, five reasons why it's key and how to acquire it, I left them with Boyatzis's theory of self-directed learning. I first encountered this during my read of Primal Leadership, a book he co-authored with the chap who most popularized EQ from 1995 till date, Daniel Goleman. Boyatzis's map (see below) begins with a hopeful "Who do I want to be?", a picture of your ideal self. This existential question is at the very apex of Maslow's hierarchy of needs (if you remember); it is a question of self-actualization. But the next question, which in my opinion really should be the first, is 'Who am I?', your real self.
Integrating those two questions reveals one's strengths (where your ideal and real self overlap) and your gaps (where your ideal and real self differ). Your learning agenda or growth plan, therefore, basically involves building on your strengths while reducing your gaps. And so you begin: experimenting with new thoughts (head), feelings (heart) and behaviours (hands). Practicing your new behaviours actually results in building new neural pathways to success/mastery.
But here is the kicker: Central to all of these points, steps, and pathways is "DEVELOPING TRUSTING RELATIONSHIPS that help, support and encourage each step in the process." Again, that's where a professional coach comes in. Even in this so-called 'self-directed' learning, no man is an island and needs the vital trusted relationships to make their growth and goals happen.
COACHING MOMENT
Do you have someone that will tell you the truth and to whom you can tell the truth? Do you have the authentic relationships and customized resources to clarify your beliefs and values and understand vital personal and professional issues and receive honest feedback when you need it most? 
A coach's responsibility is to provide content, insight, tools, wisdom, framework, ideas, and feedback.  YOUR responsibility is to move from awareness to action and accountability.  Our coaching provides many structures for you to meet your individual and organizational goals.
For John Maxwell certified coaches like myself, whether it's one-on-one executive coaching or one-on-few, we like to say that the objectives of coaching include, but are not limited to:
Discovery of personal identity, emotional needs, purpose (vision & mission) and values
Crafting of personal, professional and corporate Growth Plan
Adding an objective and supportive third party to your leadership team
Increasing accountability of your personal and professional goals
Improving specific skills related to your role.  Such as managerial skills, communication, conflict resolution, time management, productivity, and effectiveness
Sharing best practices from other organizations that have done similar work
Reviewing strategic business decisions related to operations, customer service, marketing, financials, and more
Being a sounding board
Preventing problems, thereby avoiding expensive, time consuming or embarrassing actions
Supporting your growth past your limiting beliefs
Conflict resolution
Creating a team atmosphere
Relationship development for success and significance.
COACHING OPTIONS (FOR C-LEVEL EXECUTIVES, OWNERS & GENERAL MANAGERS)
Coaching Categories: Depending on your goals and budget, at YAW PERBI we offer Green, Blue and Gold level coaching. Currently only Gold services are available, and they are limited.
Time & Place: All coaching programs require a minimum time investment of 6-12 months.  Coaching is a marathon, rather than a sprint! Depending on whether Green, Blue or Gold level, the coaching package includes 2, 3 or 4 sessions a month lasting approximately 60-90 minutes. Sessions can be at your office, my place of business, or a mutually agreed upon location.  In these days of COVID-19, online coaching is our mainstay via Zoom. Phone coaching is also an option but I prefer to see the individual to observe body language and such.
Special arrangements:  Sometimes included in a gold package is two full days of shadowing, facilitation of a two meetings of your choice (up to 2 hours each), and unlimited phone calls and emails in between sessions.  In addition, you or any of your employees will benefit from a 25% discount for any company training/workshops.
Other coaching services: Group Coaching, Sales Coaching, Couples Coaching, Business Partner Coaching, Youth Coaching, Relationship Coaching, Genogram Coaching and more (they include these but not limited to them).
Payment arrangements: These are to be made before services are provided, and as agreed upon via this website, mobile money, PayPal, cheques or bank transfers.
Miscellaneous: We will always be punctual. If you need to reschedule, 24 hours advance notice is required or one-half of the coaching session is lost.  If for some reason I need to reschedule and do not do so with a 24-hour notice, you will be credited with an additional one-half coaching session, at no additional charge. Our coaching relationship is completely confidential.  We will never share your identity or any information about you with any other person or organization without your expressed consent.   In the unlikely event that there are concerns that need to be referred to another professional, I may be able to make that suggestion to you.
Completing our coaching relationship is a mutual decision.  While my retention percentage is very high, there may come a time when you determine that it is time to complete our coaching relationship.  If and when that time comes, I expect that the coachee will give me at least four weeks' notice.  That will give us time to summarize your growth/learning and strategize your next steps.
Our services are unconditionally guaranteed.  If at any time you feel that you are not getting the support, honesty, coaching, or training that you expect, then you need to tell me.
LET'S GO!
If you are serious about growth, success and significance you need a coach.  The proof of your commitment is your investment of quality time, best effort and substantial money. Even as a coach, I also have a paid coach. Everybody needs somebody to coach them. So! Make arrangements here and now for a 30-minute exploratory call to see if we would be a good match.
There is no significant high performer I know who doesn't have a coach, from entertainment and sports to business. Some have even more than one. How about you?
It was just a one-hour call with a coach. Let's call him Joe. It changed the trajectory of my life. It wasn't at a corner office in downtown Montreal or in one of the new plush buildings decorating the Accra skyline. It was at home, just at home; over Zoom. But utilizing the major tool coaches employ–questions, questions and more questions–the lightbulb suddenly came on and within 24 hours I had the oomph to re-start passive income generating projects I had kept procrastinating for a decade!  How much that call with Joe cost me in dollars cannot be compared with the kind of lifetime value I gained and lifelong income stream I am cued to earn. I love the CLARITY coaches help bring to our thinking.
SO WHAT IS COACHING?
One of the most (ab)used words in our time is 'mentor' or 'mentoring' (or 'mentorship'). I've heard and read people actually say coaching and mentoring are two different things. But no, mentoring is a term for the broader framework of empowering relationships every successful person needs (see diagram above) and coaching is a form of mentoring.
According to one of my leadership professors (during my Master of Arts in Global Leadership), mentoring is  "a relational process in which a mentor, who knows or has experienced something, transfers that something (resources of wisdom, information, experience, confidence, insight, relationships, status etc.) to a mentoree, at an appropriate time and manner, so that it facilitates development or empowerment" (Clinton & Stanley 1992, 40). Mentoring is relationship, relationship, relationship. A relational experience, relational process, relational exchange.
Coaching, therefore (I repeat), is a form of mentoring, as is each of the other eight types of mentoring shown in the Clinton Continuum diagram above.
WHAT MAKES COACHING DIFFERENT?
First of all, you will notice that coaching is classified among the first third of relationships under 'INTENSIVE', unlike counselor, teacher and sponsor (grouped in the middle third) which are OCCASIONAL experiences. For example, as a coach, I recommend at least twice a month meetings with my coachees; sometimes even weekly (depending on their situation, needs and goals) for a minimum of six months. The ideal is a contact every 10 days especially so that no balls are dropped inadvertently.
While the scope of this write-up is not to describe every one of the nine mentoring relationships but to highlight coaching in particular, let me briefly say that a discipler is someone who enables another in the basics of following a religion (especially Christianity), a spiritual guide provides accountability, direction and insight for questions and decisions affecting spirituality and maturity. A coach provides motivation, clarity, challenge, accountability, skills and application needed to meet a goal. Clinton would argue that "the coach's central thrust is to provide motivation and impart skills and application to meet a task or challenge" (73). Coaching, he would say, "is a process of imparting encouragement and skills to succeed in a task through a relationship" (76).
THE NITTY-GRITTIES 
Coaching is an on-going conversation where I (as your coach) provide encouragement, guidance and honest feedback, as YOU pursue YOUR personal and professional goals.  I fully expect you to grow yourself and your family/business/organization and succeed in life, by attaining your goals!
There is no significant high performer I know who doesn't have a coach, from entertainment and sports to business. Without a coach, it is hard for anyone to experience high performance on their own, let alone to achieve what has come to be known as meta performance. In today's competitive environment, some of the most successful business leaders have experienced tremendous benefits from coaching.  Results have included increased revenue and productivity, career advancement, higher employee retention, and the development of more effective business strategies.  YOU will define the agenda.  YOUR results will vary depending on how long we work together and what actions YOU take.
As a John C. Maxwell trained and certified coach, my clients are expected to, and have experienced, measurable return on investment, increased productivity, and up to 200% revenue growth.
IT WORKS! LET ME HELP YOU. 
If I didn't believe this stuff, I wouldn't be promoting it. The proof of our belief in anything is our investment of time and money in it. I personally have my own coach who I pay hundred of dollars to for three sessions monthly. At YAW PERBI, our value proposition is authentically empowering C-level executives for exponential growth in 90 days, success within a year and significance for a lifetime (and beyond). Try me. Try us.
We are human, thus limited, and cannot help everybody. Currently I personally have only 10 places each year for authentic, high quality and deep relationship one-on-one coaching so I have had to make the hard decision to focus mainly on C-level executives. The wisdom in that is, as my mentor John Maxwell says about what he calls "the Law of the Lid," when they get better (raise their lids), everyone else else under them gets better. Knowing how key coaching is, however, no one will ever be turned away. I would be more than happy to refer you to others within my very rich coaching network. Everyone deserves a competent and caring coach.
Apart from one-on-ones, there are times I do one-on-few coaching for a group of executives. My favourite is helping executives work through company DNA (vision, mission & values)! I share about that in a later blog here.
If you're ready to grow, succeed and be significant, take my hand and let me help you. Let me be your coach.
Bibliography
Clinton, J. Robert and Paul D Stanley. 1992. Connecting: the mentoring relationships you need to succeed in life. Colorado Springs: NavPress.